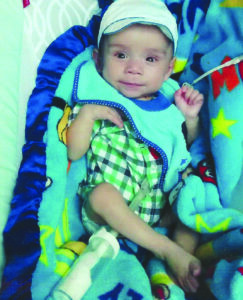 Mickey Joseph Meuse, 6 1/2 months, passed away Wednesday, June 22, 2016 with his loving family by his side.  He was born in Sylva on Nov. 29, 2015.
Mickey is survived by his parents Richard Joseph Meuse Jr. and Danielle Reed; his paternal grandmother, Ann Meuse; his maternal grandmother, Rosie Hornbuckle; one brother, Galvin Reed; two sisters, Alexis Grimes and Alleshaunie Hornbuckle; two great great aunts, Mabel Frizzell and Dolly S. Taylor; great grandmother, Jane Taylor; seven aunts and three uncles also survive.
Mickey was preceded in death by his paternal grandfather, Richard Joseph Meuse Sr; and maternal great grandparents, Calvin and Peggy Hornbuckle.
Funeral services were held Saturday, June 25 at the Straight Fork Baptist Church with Rev. Charles Ray Ball officiating.  Burial was in the Boone Cemetery on Wrights Creek.  Pallbearers were Eddie Bird and Houston Hornbuckle.