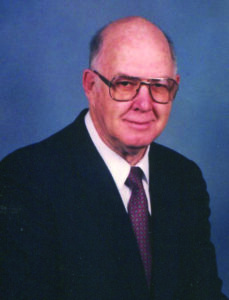 Clyde Taylor Bumgarner, 86, of Sylva passed away Thursday morning, June 16, 2016. He was born Oct. 2, 1929 in Jackson County.  He was the son of the late Charlie Fannon and  Hanna Lennis (Taylor) Bumgarner.  In addition to his parents, Clyde was also preceded in death by an infant brother, Wilford; and sisters Helen Johnson and Dorothy Davis.
Clyde was a U.S. Army veteran serving in Ft. Richardson, Alaska, and he was also in the Marine reserves in the 1950s.  He was a 1957 graduate of Western Carolina University.  During his time at WCU, he played football, was an assistant coach, and wrestled.
He retired in 1983 following 30 years of service with the BIA School System – Cherokee Indian Agency.  Clyde was a very active member of the National Federation of Federal Employees during his career in the school system.
Clyde was a longtime member (40+ years) of the American Legion Post 104 in Sylva, serving some years as Commander and Membership Chairman.  He was also active with the American Legion Burial Detail.
He was a lifelong member of Loves Chapel United Methodist Church where he previously served as trustee, Chairman of administration board, Sunday school teacher, Sunday school superintendent, and served as Trustee of the Loves Chapel Cemetery Fund.
Clyde is survived by his wife of 59 years, Jeanne Henson Bumgarner; sons, Ronnie L. Bumgarner and wife Brenda of Whittier, and Tony L. Bumgarner of Sylva and wife Stephanie Smith of York, Pa.  He is also survived by four grandchildren, Linsey, Cory, Taylor, and Naomi; his twin brother, Ernest Bumgarner; and brother, L.C. (Zeke) Bumgarner.
Funeral Services will be held 2pm on Sunday, June 19 at Loves Chapel Methodist Church in Sylva with Revs. Ryan Snyder and Aryn Williams-Ruebel officiating.  Burial will be in Love's Chapel United Methodist Church Cemetery.
The family will receive friends Saturday evening, June 18 from 6-8pm at Appalachian Funeral Services.
Memorials may be made to the Loves Chapel United Methodist Church Cemetery Fund, 942 Fairview Rd. Sylva, NC 28779.
Appalachian Funeral Services has been entrusted with all arrangements.