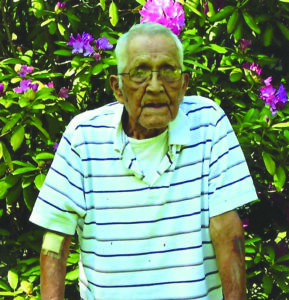 Tommy Littlejohn, 82, of Cherokee passed away Monday, June 6, 2016 at the Cherokee Indian Hospital with his loving family by his side.
He was born Feb. 10, 1934 in Cherokee to the late Henson Littlejohn and Leewee Crowe Littlejohn.
Tommy is survived by his wife, Rachel Johnson Littlejohn; three daughters, Brenda Johnson, Lynn Littlejohn, and Lana Littlejohn; three grandchildren, Marci Johnson, Chebon Postoak, and Esiah Postoak; one great grandson, Michael Reed; one sister, Sallie Reed; special friends, Brother Wayne Carson and Peggy Carson, and Leroy and Cheryl Denison.
In addition to his parents, Tommy was preceded in death by one son, Charles (Chuck) Johnson; four brothers, Boyd Littlejohn, Thomas (Maygo) Littlejohn, Henson Littlejohn Jr., and Jess Littlejohn; four sisters, Alice Oocumma, Agnes Castorena, Amanda Blackfox, and Mabel Littlejohn.
Visitation will be held on Wednesday, June 8 beginning at 4 pm at the Macedonia Baptist Church where the body will remain until the hour of service on Thursday, June 9 at 2 pm.  Pastor Dan Conseen and Brother Wayne Carson will officiate.  Burial will follow at the Lower Littlejohn Cemetery.  Pallbearers will be nephews.
Long House Funeral Home is serving the Littlejohn family.