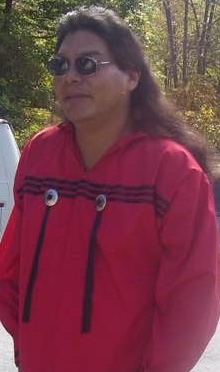 Johnny Douglas Bigwitch, 50, of Cherokee, passed away Wednesday, June 1, 2016.
He was born June 20, 1965 in Cherokee to the late George W. Bigwitch and Melinda Smoker Bigwitch.
Johnny is survived by two brothers, Danny Bigwitch and William A. DeHaven; two sisters, Brenna A. Rogers and Paula S. Young;  two nephews, Ryan M. Gibbs and Dakota V.N. Young; and two nieces, Justina Bigwitch and Destiny N. Young.
In addition to his parents, Johnny was preceded in death by one brother, Larry A. Bigwitch.
Visitation will be held on Saturday, June 4 from 4-8pm at Long House Funeral Home.  Funeral services will be held on Sunday, June 5 at 2 pm at Long House Funeral Home with Pastor Tim Melton officiating.  Burial will follow at the Bigwitch Cemetery on Blue Wing.  Pallbearers will be among family and friends.