By SCOTT MCKIE B.P.
ONE FEATHER STAFF
The sights and sounds of Simba, Nala, Rafiki, Timon and more will come to Cherokee in an historical three-night production.  Cherokee Central School's Musical Theater Department is presenting Disney's "The Lion King Jr." on May 5-7 at 7pm each night.  The performances mark the first time in the history of the school that a musical has been produced.
"They're awesome kids," said Michael Yannette, Cherokee High School and Middle School director of choir and musical theater.  "They're just really into the process and at the beginning because they've never done this.  The school has never done this in the history of the school – they have never had a musical before.  So, they were so hesitant at first when we started into the process, but now it's like they're in it to win it."
He added, "They are doing an amazing job, and I'm just super, crazy proud of them."
Yannette said the process for producing the musical started shortly after his arrival at the school.  "We have the most extraordinary high school theater I've ever seen.  It's absolutely stunning.  When I got here about a year and a half ago, we started with three kids in the chorus, and I thought, 'my gosh, we've got the most incredible space, we've got to do a musical'."
He got a notice at the first of the year that the Lion King was released for the first time to schools.  "They offered a grant program, and I applied for the grant.  A month later, we got it." The grant covered materials and the often-expensive performance rights of "The Lion King Jr." which is a 60-minute adaptation of the Disney classic geared towards middle school performers.
School officials were on board as well said Yannette.  "We have tremendous administrative support here.  It's just incredible.  Everybody just hopped on board and said, 'yeah, we'll give you the budget you need and let's just make it happen.'"
The students themselves have been attending after-school rehearsals every school day since January.
"I think it's been an amazing first time being in theater," said Samuel Esquivel who is playing the part of Timon.  "In my opinion, it's all been fun, and it's all been a brand new learning experience."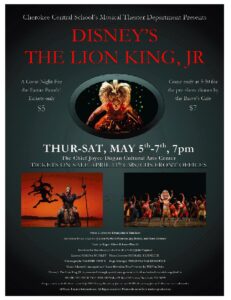 He said working on the play has been challenging and has improved his ability to work with others. "It gives you a better idea of how you can be flexible with the people you are working with and the play you're doing."
Cece Lambert, playing the part of Nala, said it is her first time doing musical theater.  "It's really fun, but sometimes it can be really demanding."
Ella Montelongo, playing the part of Rafiki, said the choreography and learning of lines has been challenging.  "It's pretty fun, but it's pretty hard.  It's the first time we've ever done a musical."
She worked for one year previously at the outdoor drama "Unto These Hills" which helped her in this production.  "It made me not as nervous as I would normally be if I didn't do anything like that."
Jullian Rubio, playing the part of Mufasa, commented, "This is my first actual musical, and I've got to say it was really fun being able to do and learn things that you wouldn't normally be able to do."
The young actors related that character development has been a huge plus for them in the production.
"The most fun thing is creating your character from scratch and becoming part of your character," said Lambert.
Montelongo added, "It is fun making that character your character.  Nobody else can play that character as well as you can."
The entire experience has many of the students thinking about musical theater in the long term.
Esquivel noted, "I think that being Timon is a lot of fun because I get to be my usual goofy, humorous self.  If I could get more acting jobs like that, I feel like I would take that in a heartbeat.  It's just a lot of fun being in theater."
Lambert commented, "This play has given me a better understanding of what my future career could be as in theater and arts and drama.  I believe that I will continue to do this and continue to be a part of the theater for a long time."
Montelongo said she is already planning to study music and theater in college.  "I just enjoy all of it."
Rubio expressed that he has enjoyed the entire process and has a better understanding of musical theater.  "I find it very entertaining learning to get out of your comfort zone each time."
Tickets cost $5 each and are on sale now in the front offices of Cherokee High School and Cherokee Middle School.  The Brave's Café is offering a $7 pre-show dinner at 5:30pm for those interested in the traditional dinner and a show combination.