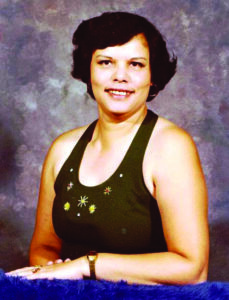 Kathryn "Bopeep" Frances Verran (Crowe) passed away on April 15, 2016 in Grapevine, Texas at Baylor Medical Center. She was born in Cherokee on July 11, 1938.  She was the daughter of the late Betty Crowe George.
Kathryn grew up in Cherokee, and in 1956 she left to attend Haskell Indian Nations University in Lawrence, Kan. She returned to Cherokee and through a Native American relocation program, she then moved to Dallas, Texas where she met Ralph Peter Verran at a Methodist Church. They married on May 5, 1962 and moved to Grapevine, Texas. She resided in Grapevine and Southlake Texas for the past 50 years. Kathryn has volunteered and been a member of numerous organizations throughout her life; her last was a volunteer at a retirement facility assisting the elderly.
Kathryn is remembered for her nurturing spirit, sense of humor, generosity, and her endless love for her family, relatives, and friends. Kathryn made great effort to keep in contact with everyone and she was loved by all. She brought joy to all whose hearts she touched.
Kathryn is survived by her sons, Darrell Verran of Grapevine, Texas, and his children Talor Damm, Cody Verran, and Sam Jones, Randy Verran and his wife Alison of Colorado Springs, Colo., their children Autumn and Norah Verran, and her two sisters Donette Lossiah of Cherokee, and Aubry Bigmeat of Cherokee.
In addition to her mother, Kathryn was preceded in death by her husband, Ralph Verran; her three brothers, Sonny, Inky and Don Crowe; and a sister, Glenda C. Niccum.
Kathryn has been laid to rest at Dallas-Ft Worth National Cemetery with her husband Ralph.