Great Smoky Mountains National Park will celebrate Junior Ranger Day on Saturday, April 23 from 10am – 2pm with special activities at Sugarlands Visitor Center, Cades Cove Visitor Center and Oconaluftee Visitor Center. The park is also hosting two InstaMeet opportunities with photographers who will share tips on creating unique social media posts using camera phones at Sugarlands Visitor Center at 10am and Oconaluftee Visitor Center at 2pm.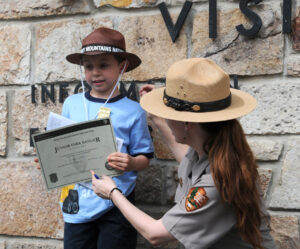 Children and their families can join a variety of free, hands-on activities including ranger-guided walks, historic toy making, speaking with a real wildland firefighter, creating a personal bandanna, and visiting touch tables with animal skins, skulls, and scat. Information about specific programs is available at each visitor center. Children can earn their free Junior Ranger badge by completing three specifically planned activities. The Junior Ranger booklets, produced in cooperation with the Great Smoky Mountains Association, can be purchased at all park visitor centers. The booklets are designed to serve a variety of ages from 5-12. For older visitors who still wish to participate, the park also offers a "Not-So-Junior Ranger" program, which rewards a patch.
Junior Ranger Day is a special event during National Park Week, which is being celebrated this year April 16 thru April 24. National Park Week is an annual presidentially proclaimed week for recognizing the National Parks. In honor of this year's celebration of the National Park Service Centennial, parks throughout the country are inviting you to Find Your Park through ceremonies, interactive games, and special events designed to connect children with the resources found in national parks.
"As the National Park Service turns 100, it is more important than ever to inspire the future advocates and stewards of Great Smoky Mountains National Park," said Superintendent Cassius Cash. "Junior Ranger Day is important because if you haven't visited parks and public lands in your formative years, you run the risk of not knowing or caring about them as an adult. By connecting young people to such a vast resource through the successful and long standing Junior Ranger program, we can ensure that these places will be sustained for future generations to enjoy and explore."
Info: Ranger Joshua Contois at Joshua_Contois@nps.gov or (865) 436-1252. Visit www.NationalParkWeek.org  to learn more about how you can join parks, programs, and partners in celebrating National Park Week across the country.
– NPS