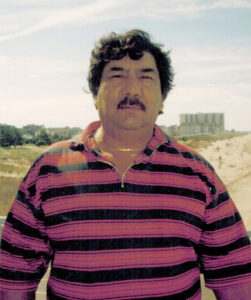 Leland Welch, 69, of the Jackson Branch Community in Robbinsville, passed away on Saturday, April 16, 2016 at his residence. He was the son of the late Larch and Stacy Crowe Welch.
In addition to his parents, he was preceded in death by his daughter, Sydney Jackson; brother, Everett Welch; and father-in-law, Clarence Jackson.
He is survived by his wife, Jeannie Jackson Welch of Robbinsville; sons and daughters-in-law, Freelin and Tracie Welch of Cherokee, Freeman Welch of Coleman, Fla., Shane and Jessica Welch of Robbinsville; his daughters, Stephanie Bridges and Shelby Jackson, both of Robbinsville; brothers, Frank Welch of Sisseton, SD, Richard Welch of Cherokee, Jimmy Welch of Robbinsville, and Jack Teesateskie of Robbinsville; and mother-in-law, Betty Jackson of Robbinsville.
His grandchildren are Reginald Welch, Michelle Junaluska, Fala Welch, Mahala Welch, Skyler Welch, Sarah Wachacha, Dalton Welch, Justice Welch, Tashina Welch, Mallory Welch, Paden Welch, Tayen Bridges, Tylie Bridges, Tacey Bridges, Tavok Bridges, Amiyah Collins, JaeLee Jackson and Ansley Jackson. He has four great grandchildren including McKynlee Adams, Rory Wachacha, Isabella Welch and Iva Welch.
Funeral services will be held at 7pm on Wednesday, April 20 at Little Snowbird Baptist Church. The Reverend Paul Teasdale will officiate. The family will receive friends from 5-7pm at the church, prior to and after the service at the church. Committal services will be held at 11am on Thursday, April 21 at Jackson Cemetery on Jackson Branch Road. Townson-Smith Funeral Home is in charge of the arrangements. An online register is available at www.townson-smithfuneralhome.com.