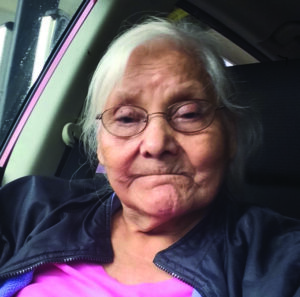 Elsie Welch Watty, 80, of Cherokee passed away Friday, April 8, 2016 at the Cherokee Indian Hospital.
She was born Sept. 12, 1935 in Cherokee to the late Adam Welch and Anna Powell Welch.
Elsie was a true woman of God.  She was very faithful to her church.  She loved her dog "Gweedo", flowers, and watching birds.  Elsie loved her family and friends.  She was a Cherokee Basket Maker her whole life, specializing in White Oak Baskets.   She started making baskets as a little girl.  She had a basket in the Smithsonian Museum.  She was a fluent Cherokee speaker.
Elsie is survived by her husband, Samuel Watty; her children, Samuel E. Watty and companion Linda Jumper, Mary C. Montelongo and husband Dave, Dennis A. Watty, Charlie D. Watty and wife Francine, Regina Watty and companion John Malpass, Becky Watty and husband Cleto Montelongo, Sara Elise Watty; two sisters, Annie French and Molly Herbole; special granddaughter, Teena Watty; special nephew Alfred Welch and wife Maybelle; 22 grandchildren and 27 great grandchildren also survive.
In addition to her parents, Elsie was preceded in death by one daughter, Anna Louise Watty; five brothers, Frank, Wilson, Simpson, Larch, and John; and two sisters, Charlotte and Agnes.
The funeral service is planned for Monday, April 11 at 1pm at the Straight Fork Baptist Church with Revs. Charles Ray Ball, James "Bo" Parris, and John Driver officiating.  Burial will follow at the Sam Watty Cemetery.  Grandchildren and friends will serve as pallbearers.