By SCOTT MCKIE B.P.
ONE FEATHER STAFF
Two life-size statues of PFC Charles George, an EBCI tribal member from the Birdtown Community who was posthumously presented the Medal of Honor for his heroic actions in Korea, are nearing completion.  The EBCI PFC Charles George Memorial Fund Project Committee reported to Tribal Council on Tuesday, April 5 that a clay model of the statue has been made and it will soon be cast in bronze.
The statues, one of which will set in front of the Charles George VA Medical Center in Asheville and the other which will be displayed at a spot in Cherokee to be designated later, are currently at the studio of artist James Spratt in Hendersonville.  Spratt, a U.S. Navy veteran and long-time patient at the Charles George Medical Center, is the sculptor on the project.
"The clay model is complete except for just a few minor adjustments and additions," Warren Dupree, project committee chairman, told Council.
In January, Tribal Council approved unanimously a one-time donation of $35,000 to the project which represented the entire fundraising amount that was needed.
Dupree said the clay model weighs about 300 pounds.  "We have paid regular visits, about every two weeks, to check on progress and to interact with Mr. Spratt."
He added that Spratt is a cancer patient at the Medical Center.  "This is what he wants to do to pay back.  He is a life-long bronze sculptor artist.  He knows that he is at the end of his life, but before he passes on to be with our Lord Jesus Christ, this is what he wants to do for our people and for the Charles George VA Medical Center."
Dupree said the clay model is set to go to the foundry located in Atlanta on Thursday, April 14.  Etched black marble stones will be set with the statues that will include words in both English and Cherokee language.
He said the statues should be ready in the latter part of June.  "The excitement level everywhere is just unbelievable."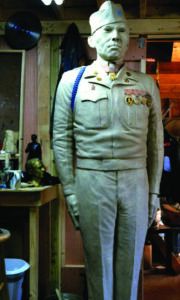 Dupree said they need recommendations from EBCI tribal members and leaders, "Where would you like to see this bronze sculpture placed?  It is 5' 6".  It is about as accurate as it can be because there are very few surviving pictures of Charles George, and the artist has been working from those photographs and interacting with Patty (Buchanan, George's niece) and the family."
He related that the Committee has discussed this at length and has ideas but welcomes the ideas of all.  "It must be high visibility where we have the community flow of traffic on a very high level each and every day.  The hundreds of thousands of visitors and guests that we have that come to Cherokee every year, we need to give them the opportunity to view this national hero."
Dupree said PFC George is only one of 28 American Indians to ever be presented with the Medal of Honor.  "He gave his life to protect his two war buddies, and this is how we honor his memory.  We can read his history.  We know his history, but now we have an opportunity, thanks to you our governing body and to our people, to make sure that our children and our grandchildren and our great grandchildren will always be able to see his face."
Cherokee County – Snowbird Rep. Adam Wachacha, himself a U.S. Army veteran, commented, "On military bases or on federal property, they always exemplify heroes at entrances or at centerpieces inside their facilities.  We don't really have an entranceway that would be too secure, but I've thought about the traffic circle and I've thought about the bridge that was named for him also; somewhere of him overseeing the place that was named after him."
If you have questions or suggestions for the statue committee, contact Dupree 508-2657.
Following is the full Medal of Honor citation for PFC George: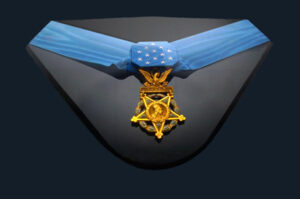 Rank and organization: Private First Class, U.S. Army, Company C, 179th Infantry Regiment, 45th Infantry Division.
Place and date: Near Songnae-dong, Korea, 30 November 1952.
Entered service at: Whittier, N.C.
Born: 23 August 1932, Cherokee, N.C.
G.O. NO.: 19, 18 March 1954.
Citation: Pfc. George, a member of Company C, distinguished himself by conspicuous gallantry and outstanding courage above and beyond the call of duty in action against the enemy on the night of 30 November 1952. He was a member of a raiding party committed to engage the enemy and capture a prisoner for interrogation. Forging up the rugged slope of the key terrain feature, the group was subjected to intense mortar and machine gun fire and suffered several casualties. Throughout the advance, he fought valiantly and, upon reaching the crest of the hill, leaped into the trenches and closed with the enemy in hand-to-hand combat. When friendly troops were ordered to move back upon completion of the assignment, he and 2 comrades remained to cover the withdrawal. While in the process of leaving the trenches a hostile soldier hurled a grenade into their midst. Pfc. George shouted a warning to 1 comrade, pushed the other soldier out of danger, and, with full knowledge of the consequences, unhesitatingly threw himself upon the grenade, absorbing the full blast of the explosion. Although seriously wounded in this display of valor, he refrained from any outcry which would divulge the position of his companions. The 2 soldiers evacuated him to the forward aid station and shortly thereafter he succumbed to his wound. Pfc. George's indomitable courage, consummate devotion to duty, and willing self-sacrifice reflect the highest credit upon himself and uphold the finest traditions of the military service.