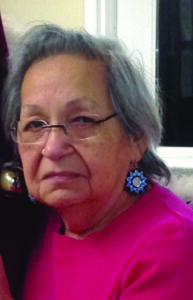 Harriett Patricia Walkingstick Hornbuckle, 76, of the Painttown Community, went home to be with the Lord, Monday, April 4, 2016.  Patricia was a life-long resident of Cherokee and was a member of the Eastern Band of Cherokee Indians.
"Pat" as she was known in the community, gave of herself and time to many organizations.  Pat was a member of the American Legion Auxiliary and NAIWA to name a few.
Pat was preceded in death by her husband, Vernon Hornbuckle; son, Everett Hornbuckle; and daughter, Laverna "Cookie" Ray Hornbuckle.  Patricia is survived by her grandson, Yona Wade, of the Painttown Community; granddaughters Keyonna Hornbuckle of the Birdtown Community; Shelby Hornbuckle of the Yellowhill Community; and great grandchildren Odie Hoot Owle, Piper Wren Owle and special niece Cathy Dunlap.
Visitation will be Wednesday, April 6 at Acquoni Baptist Church in Cherokee from 5pm-12am and the service will be held April 7 at Acquoni Baptist beginning at 11am.