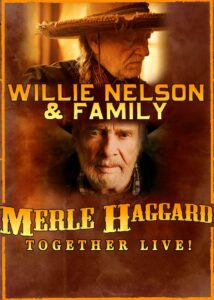 Country music legends Willie Nelson and Merle Haggard are scheduled to play Harrah's Cheroke Event Center together on Saturday, May 21 at 7:30pm.  Tickets for the show go on sale on Friday, Jan. 29.  Visit Ticketmaster.com or call 1-800-745-3000.
Willie Nelson is one of the most successful country music singer-songwriters in history, releasing 68 studio albums and 10 live albums. He wrote his first song at the age of seven and joined his first band at ten, playing concerts as a lead singer and guitar player while still in high school. He spent the '50s and '60s writing songs for established acts such as Ray Price and Patsy Cline, as well as releasing a string of albums on Liberty and RCA beginning with his debut …And Then I Wrote in 1962. In 1973, he signed to Atlantic Records and put out Shotgun Willie, which veered into outlaw country, a stark contrast from the mainstream Nashville sound and clean-cut country artists of the era. 1975's Red Headed Stranger and 1978's Stardust followed on Columbia Records, both garnering commercial and critical success. The '80s saw the release of No. 1 albums Honeysuckle Rose, Somewhere Over The Rainbow, Always on My Mind, and The Promiseland, as well as Nelson joining Johnny Cash, Waylon Jennings, and Kris Kristofferson in the country supergroup The Highwaymen, touring and releasing three studio albums between 1985 and 1995. Nelson continues to release a new album almost every year and delight ticket buyers in live shows to this day.
For over half a century, Merle Haggard has been a champion of the misunderstood, the outcasts, and yes, even the outlaws. Forging a new path because the one Nashville had charted was too polished and removed from real life for his liking, Haggard and his Bakersfield brethren (including Buck Owens) were the forefathers of the alt country movement that took root in the '90s. In fact, fans inclined to buy tickets to Wilco or Ryan Adams would find themselves right at home alongside fans of more traditional country at a Merle Haggard concert, connecting with the man who once described himself as an "Okie from Muskogee" – an uncompromising truth teller who never turned his mind or heart away from the working class. While the last of the Country Music Hall of Famer's staggering 37 No. 1 hits may have been in 1986, his recent albums prove that while time marches on his talent and vision remain steadfast. As he's shown on tour as well as in 2010's aptly titled album I Am What I Am, Haggard is as sharp a social critic as ever. Meanwhile his 2012 album Working In Tennessee proved that despite the title, his heart is still firmly in Bakersfield – and fans are all the better for it.
– Harrah's Cherokee