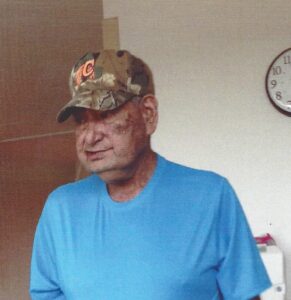 Morgan M. Bradley (JB) was born on July 14,1949. He won his battle with cancer on Thursday, Jan. 21, 2016. We praise God he no longer has cancer anymore or doesn't have to worry about it coming back. He was preceded in death by his parents Henry and Helen Reed Bradley; also his paternal grandmother who raised him, Eva Calhoun Bradley; and his maternal grandparents, Johnson and Dinah Reed. He is also preceded in death by his brothers, Raymond Bradley, Jimmy (Buggy) Bradley, Don Bradley, and Walter (Biddy) Bradley. He is survived by his wife of 47 years, Loretta; two sons, Richard with wife Candy, Michael; one special son, Arab Bradley; and two daughters, Tammy and Dee Dee; two special daughters, Shayna Ledford and Beth Grant with husband Drew; one grandson, Jayden; three special grandchildren, CJ, Mika, and Little Evard (Chum); one sister, Carol Bradley Long with husband Cliff; one brother, Bob Reed; one aunt, Eva T. Reed; two uncles, Jerry Wolfe and uncle Ray Kinsland with wife Jerri; special friends, Connie Keller with husband Richard; and also several nieces, nephews and cousins.
He grew up around his uncles Roy, Jonah and Lawrence Reed, learning how to log and do mechanic work. He worked in Maggie Valley building houses for a few years and later worked full time at the Cherokee's Factory. He also did odd jobs on the side and horse logged for years. He played in the men's fast pitch softball league in his younger days, until he found Jesus 36 years ago!
He was a deacon at Big Cove Baptist Church, Macedonia Baptist Church and most recent Acquoni Baptist Church. He was a big supporter of missionaries and their missions.
He had a special place for kids in his heart. If a child needed something, he would do what he could to help them. When he worked for the Boys Club as a bus driver, he was known as "Uncle Grandpa Morgan" on bus #7.  He was assigned to work in the school cafeteria between bus runs, where he handed out many dollars and coins. He enjoyed that job most of all because he got to see the kids and he helped them when they needed him. He fully supported the Cherokee School System and believed in the Braves, Lady Braves and of course the Dallas Cowboys. He watched all the World Series ballgames from little leagues, college to professional boys/girls. He also loved fishing and NASCAR racing until he could no longer attend.
He will be taken to Acquoni Baptist Church where he was a member on Wednesday, Jan. 27 at 5pm where he will remain until the funeral on Thursday at 11am. He will be buried in the Bradley Family Cemetery on Galimore in Big Cove. Evangelist Randy Bane, Missionary Olin Williams, and Pastors Ed Kilgore and Bo Parris will officiate the services.
The Cherokee Boys Club School Bus Drivers and nephews will be the pallbearers. In Lieu of flowers, we would like for people to make donations to Betty's Place, Cherokee Cancer Support PO Box 2220, Cherokee, NC 28719.