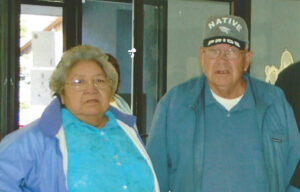 Margaret "Waggie" Sneed, 78, of Cherokee, passed away Friday, Jan. 22, 2016.
She was born March 27, 1937 in Cherokee to the late Jonah Thompson and Nannie Catolster.
Margaret was a wonderful mother, grandmother, and wife.  She enjoyed gardening, fishing, and being outdoors.  She also enjoyed spending time with her family and visits from her four grand dogs.
Margaret is survived by her daughter, Trina Sneed Owle and her husband Donnie; two sons, Dennis "Fuzz" Sneed and Darren "Dune" Sneed and wife Roberta; five grandchildren and five great-grandchildren.
In addition to her parents, she was preceded in death by her loving husband, Ernest "Bud" Sneed.
Visitation will be held Wednesday, Jan. 27 from 11am – 12pm at Long House Funeral Home Chapel with funeral services to follow at noon.  Rev. Dan Conseen will officiate.  Burial will follow at the Sneed-Hollybush Cemetery.  Pallbearers will be Kasdan Saunooke, Aaron Bradley, Rick Sneed, Paul Sneed, Dike Sneed, and Kevin Blackfox.