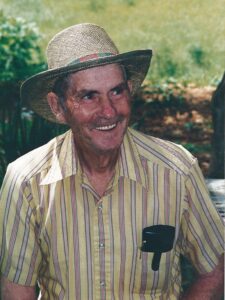 Reverend James Harvey Gass, of Whittier, born Sept. 10, 1927 to Taylor and Hazel Gass, took God's hand on Jan. 19, 2016 and crossed over to the Promised Land. He is walking the Streets of Gold with wife Dorothy and son Joel Gass now. Harvey was also preceded in death by five sisters and two brothers.
Reverend Gass leaves behind seven kids, Leslie and Linda Gass of Barkers Creek, Jimmy and Alice Gass of Whittier, Brenda (Bimbo) Gass of Whittier, Marilyn (Cookie) Plemmons of Bryson City, Steve Gass and Maryann of Inman, SC, Rick and Cindy Gass of Whittier, and Rhonda Gass of Whittier, who has devoted the past 10 years of being Harvey's caregiver; one sister, Iva and LC Gouge of Oregon; 19 grandkids; 35 great grandkids; and 9 great great grandkids; and special care takers Bill and Susie Haynes who were there day or night when needed.
Harvey worked at Drexel for 27 years. He preached at churches in Swain and Jackson counties. He loved the Lord and raised his kids to love the Lord. He was an avid hunter and fisherman and loved having his family close. He also served time in the U.S. Army.
The family will receive friends at Crisp Funeral Home on Thursday, Jan. 21 from 1-3pm with services immediately following the visitation. Rev. Randy Watkins will officiate with burial at the Thomas Memorial Cemetery.
Pallbearers will be grandsons, Andy, Ricky Jr, Jon, Donnie, Kevin, Michael, Stephen, and Jesse Gass, and Adam Smith, Chris Potts, and Erik Plemmons.