In celebration of the National Park Service Centennial, Great Smoky Mountains National Park Superintendent Cassius Cash has committed to hike 100 miles in the Park duing 2016 and is challenging the public to do the same. The 100-mile goal is part of the "Smokies Centennial Challenge-Hike 100" program which aims to inspire all potential hikers—young and old, new and skilled—to experience and gain a new appreciation and stewardship for their national park.
"I invite people of all ages and backgrounds, including millennials, to join me on this journey as we discover and explore the Smokies," said Superintendent Cash. "The Hike 100 challenge allows me to have a personal role in ensuring that the next generation of park users, supporters, and advocates carries on the legacy of the National Park Service for the next 100 years. The lifeline of any legacy is to ensure that our voices are not only heard by the next generation, but also shared in a manner that inspires them to pick up the torch from the previous generation and carry it forward."
To complete the Hike 100 challenge, participants must hike any 100 miles of maintained trail within the park boundaries between Jan. 1 and Dec. 6, 2016. These miles can include everything from the front country nature trails to the extensive backcountry network of trails. Participants can choose to hike the same trail repeatedly or choose to hike many different trails to accumulate a total of 100 miles. Participants who reach the 100-mile goal will earn a commemorative "Smokies Centennial Challenge – Hike 100" pin and be invited to a park celebration hosted by Superintendent Cash.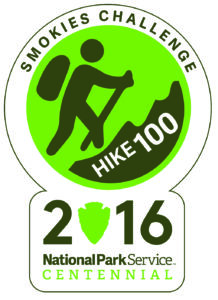 As part of the Hike 100 program, the park is hosting hikes for several regional youth organizations throughout the year. These opportunities will provide a chance for groups, who otherwise face barriers to travel due lack of transportation or funding restraints, a chance to explore the Smokies. These groups will have the added benefit of hiking alongside Superintendent Cash, as well as experienced hikers from the Smoky Mountains Hiking Club and Carolina Mountain Club.
The Superintendent is also providing a unique opportunity for the general public to hike alongside him on his way to reaching the 100-mile goal through a series of four hikes open to the public. Two front country hikes in August and December will be completely open to the public, while two backcountry hikes in June and October will be limited to 20 people each. Information about the dates, trails, and how to sign up for one of these public hikes is provided on the park website on the Hike 100 page.
The Smokies Centennial Challenge-Hike 100 program is made possible by an Active Trails grant issued by the National Park Foundation and though the continued support of Great Smoky Mountains Association and Friends of the Smokies.
Info: gsmnp_hike_100@nps.gov
– NPS