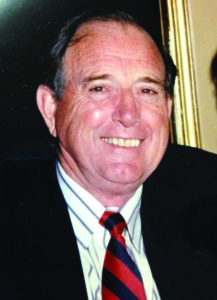 James Arnold Cooper, 86, of Cherokee, died Jan. 6, 2016.  He was born to Arnold and Myrtle Cooper on May 31, 1929—their first son and fifth of nine children.  An enrolled member of the Eastern Band of Cherokee Indians and Swain County native, he was educated in the Swain County School system graduating with the Senior Class of 1947.
He joined The Church of Jesus Christ of Latter-Day Saints in 1949, and shortly thereafter, served as a full-time missionary in the Northwestern States Mission for two years.  Completing his mission in October, 1952, he started for North Carolina via the state of Utah.  In Provo, Utah, he decided to enroll in Brigham Young University and eventually met his sweetheart, Janene Moyle of Alpine, Utah.  They married in the Salt Lake City Utah Temple on March 22, 1954.  He graduated from Brigham Young University in 1956, with a bachelor's degree in education.  He taught school in Oregon until 1959, when the family moved to Hickory, NC, and he worked for Clement Brothers Construction Company.  He was very active in church, serving in various leadership positions for many years.
In 1973, he and his brother, Candler Cooper, became business partners with the opening of the Holiday Inn (now the Chestnut Tree Inn) and later the Best Western-Great Smokies Inn and Hampton Inn.  He has served on various boards including the Cherokee Chamber of Commerce, the Cherokee Historical Association, and the Board of Trustees for Western Carolina University.  He has been recognized throughout his life for his entrepreneurial skills, philanthropic efforts, and community service.
He is survived by his wife of 62 years, Janene, and children: Debra MacCourtney (Tim), Cooper (Amy), (Russell), Chase and  Sean; Susan Spees (John), Caitlin, Jillian Jensen (Trenton), and Camden; Laurel Cooper, Dustina Cooper, Haley, Walker, and Kennedy; David Cooper, Carrie and Amelia, and Janene (Pooh) Lancaster (Todd), Nick Lyons (Kayla), Madison and Andrew.   He is also survived by sisters, Dixie Arneach, Wilma Morris, Sue Owle and brothers, Candler Ray Cooper, Robert Cooper and numerous cousins, nieces and nephews.   He was preceded in death by his parents; son, Jonathan, and three sisters, Jessie Clement, Frances Collins and Barbara Strickland.
Visitation will be Friday, Jan. 15 from 5-7 ppm at the Chestnut Tree Inn (formerly the Holiday Inn) Hwy. 19 S (37 Tsalagi Rd.). Funeral Services will be held Saturday, Jan. 16 at 11am at The Church of Jesus Christ of Latter Day Saints, Hwy. 441 S., Whittier.  Interment will be in the Alpine City Cemetery, Alpine, Utah, on Monday, Jan. 25 at 1pm.  In lieu of flowers, please contribute to a charity of your choice.