By SCOTT MCKIE B.P.
ONE FEATHER STAFF
The new EBCI Justice Center will be named in honor of a Cherokee Indian Police Department officer who gave his life in the line of duty.  Officer Anthony "Tony" Edward Lossiah passed away on Oct. 6, 2015 from injuries sustained during an Aug. 11, 2015 incident, and Tribal Council passed (11-0) legislation during its regular session on Thursday, Jan. 7 to name the new Center the Anthony Edward Lossiah Justice Center.
"Tony was a good man," said Francine Watty who spoke on Thursday on behalf of Lossiah's family.  "Tony was my nephew by marriage, but he was like a son to me.  Over the years, we became very close.  I'm grateful I had that privilege to know Tony."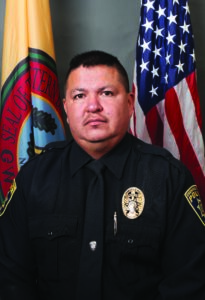 Lossiah's injuries were sustained while assisting to locate a suspect wanted for larceny and armed robbery in several area counties.  "Tony's death emphasizes the inherent dangers that law enforcement officers face each and every day in our community, across the nation, and throughout the world," states the legislation passed by Tribal Council.  "Placing Tony's name on the EBCI Justice Center would not only forever honor Tony and his family, it would also remind us how important our service truly is…"
Yellowhill Rep. B. Ensley made the motion to pass the legislation and remembered Lossiah as a good-natured man who was a friend to all in the Cherokee community.  "He was a good all-around guy."
CIPD Officer Ben Reed related that Lossiah's name will also be added to the National Law Enforcement Officers Memorial in Washington, DC in May.  "Tony's file was accepted.  His name will be placed on that wall in D.C."
Reed also said Lossiah's name will be entered into the American Police Hall of Fame and Museum in Titusville, Fla.
Yellowhill Rep. Anita Lossiah seconded the motion to pass and stated, "I knew Tony.  He had a heart of gold.  He paid the ultimate sacrifice for the public service that he provided to everyone for years.  This is a very appropriate memorial for him and his life."
Principal Chief Patrick Lambert said news of Lossiah's death in October came as a shock.  "I think every one of us probably thought that he was going to be ok.  I know I did."
He went on to praise Lossiah, "He was always a very quiet and humble man, and I will never forget him."
During Lossiah's 17-year career with the CIPD, he served in many capacities including: Patrol Officer, Juvenile Officer, Tribal Complex Security, and Child Victim Unit Detective.