By SCOTT MCKIE B.P.
ONE FEATHER STAFF
On a cold night in November 1952 near Songnae-dong in Korea, a young Cherokee warrior jumped on a live grenade and saved two fellow soldiers.  For his heroic action, which cost him his life, PFC Charles George, an EBCI tribal member from the Birdtown Community, was awarded the nation's highest military award – the Medal of Honor.
PFC George has been honored recently with the VA Medical Center in Asheville and a bridge in Cherokee both being named in his honor.  Now, the EBCI PFC Charles George Memorial Fund Project Committee is seeking to have two life-size statues constructed of PFC George – one of which will set in front of the Charles George VA Medical Center and another which will be displayed at a spot in Cherokee to be designated later.
Tribal Council unanimously approved a one-time donation of $35,000, representing the entire fundraising amount needed for the project as stated by the Project Committee, during its Budget Council Session on Tuesday, Jan. 5.  The Committee related it has raised $6,000 to date.
At first, it was discussed to give the Committee the difference of $29,000, but Birdtown Rep. Travis Smith suggested to give the entire $35,000 and let the $6,000 that has been raised so far to be used for any extra expenses including those associated with a plaque to go with both statues describing PFC George's actions.
"This man is a war hero," said Big Cove Rep. Teresa McCoy who made the move to approve the funding.  "He's an American hero, and he is a member of this tribe, and I'm deeply honored that this Center is named for him.  I'm deeply honored that this is coming to fruition."
Cherokee County – Snowbird Rep. Adam Wachacha, himself a U.S. Army veteran, seconded McCoy's move and commented, "This is for a member of our tribe who gave the ultimate sacrifice during the line of duty.  We need to step up and provide the funding for this."
According to the resolution accompanying the funding request from the Project Committee, James Killian Spratt, a U.S. Navy veteran and long-time patient at the Charles George VA Medical Center, is the sculptor on the project.  "Mr. Spratt wants to show his appreciation for the VA Medical Center facility by providing his services, foregoing his artist fee, to create a life-sized bronze statue of PFC Charles George in an Army dress uniform accurate to the period and unit decorations, standing at the position of attention…"
The funding is needed to cover the cost of materials and studio use.
Painttown Rep. Marie Junaluska has been working with the Committee and commented, "We're looking forward to the completion of this."
She added, "We're hoping that the statue (in Cherokee) can be put somewhere in heavy traffic.  We want it to be where it's safe and secure and won't be stolen, but in an area where there's a lot of traffic and it will be seen."
Following the approval of the funding, Vice Chief Richie Sneed, a Marine Corps veteran, noted, "I think it's important for our young people to see what we have in our history.  It's a huge honor to be a Medal of Honor winner.  I want to thank the Committee for the work they are doing."
Following is the full Medal of Honor citation for PFC George:
Rank and organization: Private First Class, U.S. Army, Company C, 179th Infantry Regiment, 45th Infantry Division.
Place and date: Near Songnae-dong, Korea, 30 November 1952.
Entered service at: Whittier, N.C.
Born: 23 August 1932, Cherokee, N.C.
G.O. NO.: 19, 18 March 1954.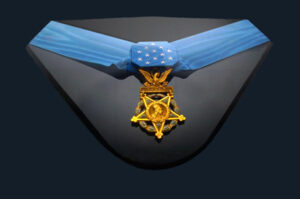 Citation: Pfc. George, a member of Company C, distinguished himself by conspicuous gallantry and outstanding courage above and beyond the call of duty in action against the enemy on the night of 30 November 1952. He was a member of a raiding party committed to engage the enemy and capture a prisoner for interrogation. Forging up the rugged slope of the key terrain feature, the group was subjected to intense mortar and machine gun fire and suffered several casualties. Throughout the advance, he fought valiantly and, upon reaching the crest of the hill, leaped into the trenches and closed with the enemy in hand-to-hand combat. When friendly troops were ordered to move back upon completion of the assignment, he and 2 comrades remained to cover the withdrawal. While in the process of leaving the trenches a hostile soldier hurled a grenade into their midst. Pfc. George shouted a warning to 1 comrade, pushed the other soldier out of danger, and, with full knowledge of the consequences, unhesitatingly threw himself upon the grenade, absorbing the full blast of the explosion. Although seriously wounded in this display of valor, he refrained from any outcry which would divulge the position of his companions. The 2 soldiers evacuated him to the forward aid station and shortly thereafter he succumbed to his wound. Pfc. George's indomitable courage, consummate devotion to duty, and willing self-sacrifice reflect the highest credit upon himself and uphold the finest traditions of the military service.