By SCOTT MCKIE B.P.
ONE FEATHER STAFF
Everything you ever wanted to know about the fruit named after a berry that isn't actually a berry can be found in "The Strawberry Story: Cultivating to Cupboard".  Written by Lynn K. Lossiah, the book covers a multitude of subjects from growing and picking your own strawberries to over 200 pages of strawberry recipes.
"It's a simple book for youth gardeners and sustainable living gardeners trying to get a little bit off of the grid," said Lossiah, a master gardener herself who has lived in Cherokee for over 30 years and is married to Ernie Lossiah of the Yellowhill Community.
Several hundred illustrations adorn the book, all done by Lossiah herself.  "I've always been interested in drawing. I have a degree in Fine Arts (Vanderbilt University)."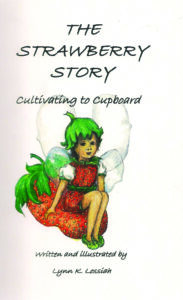 From the foreword of her book, Lossiah writes, "As a master gardener, I use heirloom seeds that I save from year to year, and I enjoy the organically grown produce from my garden.  I enjoy sharing healthy foods during the harvest.  I do have a favorite, it seems, the strawberries.  This could be because of the family memories that come to mind when I first see the strawberries turn bright red in the spring.  Each spring, at this time, the family gathered at the strawberry farm for a reunion."
The recipes shared in the book are categorized and include: butters, conserves, jams, jelly, marmalade, preserves, biscuits, breads, cakes, cheesecakes, cobblers, crepes, gelatins, muffins, mousse, pies, salads, and more.
Lossiah also includes many tips (gardening, baking, harvesting, etc.) and interesting facts such as, "The average strawberry has 200 seeds" and "Greeks had a taboo against eating anything red, including strawberries."
The book itself has a "hostess" that takes you through the different sections in the form of a strawberry fairy from a 1608 shipping logo.
"The Strawberry Story" can be purchased at any of the following locations: Museum of the Cherokee Indian, Medicine Man Craft Shop, Bearmeat's Indian Den, Talking Leaves Native American Bookstore, Bee Log Farms in Burnsville, Magnolia Salon in Bryson City, and the Sequoyah Birthplace Museum (Vonore, Tenn.).