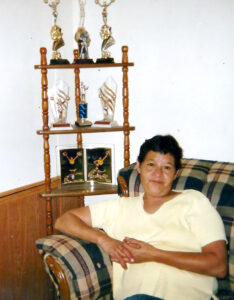 Minda Faye Armachain, 54, of Cherokee, passed away Tuesday, Nov. 17, 2015 at her home after an extended illness with her family by her side.
She was born April 23, 1961 in Cherokee to the late Nellie Screamer Armachain.
Minda was a loving mother and loved her grandchildren.
She is survived by her significant other, Jeff  Blackfox;  two daughters, Kristan Blackfox and Cassandra Blackfox; one son, Steven Bird; one brother, Rickie "Bud" Armachain;  two very special neices, Roberta Bird and Alexa Armachain; three grandchildren, Dylan Wachacha, Ethan Armachain, and Shaelynn Postoak; special mother-in-law, Nancy "mammaw" Bigmeat; and special friends, Thelma Bird, Faye Wilnoty, Michelle and Dave Wilnoty.
In addition to her mother, Minda was preceded in death by one daughter, Linda Marie Armachain; seven brothers, Bill, Lacy, John, Robert, Tom, and Martin Armachain and Jerry Taylor; and three sisters, Katherine Taylor, Annie Ruth Tramper, and Rachel Armachain.
Visitation will be held Thursday, Nov. 19 at the Rock Springs Baptist Church from 5-11pm.  Funeral services will be held on Friday, Nov. 20 at 1 pm at the Rock Springs Baptist Church with Rev. Greg Morgan officiating.  Burial will follow at the Armachain Family Cemetery on Swimmer Branch.
Pallbearers will be Chayton, Mikhal, Isiah, Steve, Flex, and Charlie Boy.
Long House Funeral Home is assisting the Armachain family.