KERNERSVILLE – Darius Lambert, freshman member of the Cherokee High School cross country team, has been lighting up courses all year long.  He finished his season with a bang by placing fourth overall at the 1A State Championship meet at Ivey Redmon Sports Complex in Kernersville on Saturday, Nov. 7.
Lambert, who placed second at the Smoky Mountain Conference championship and sixth at the 1A West Regional, took fourth on Saturday with a time of 17:36.13 and was named to the All-State Team.
Kyle Rhodes, East Wilkes, won the state title with a time of 17:06.67.  He was followed by Luke Bennett, Voyager Academy, in second with a time of 17:20.16 and Matthew Rogers, Walkertown, in third at 17:26.31.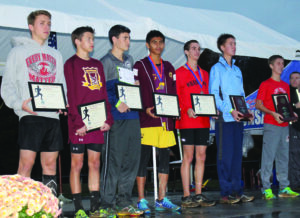 Eddie Swimmer, CHS head cross country coach, was elated by Lambert's performance at state.  "Darius was ranked 30th going into the state finals.  Since Conference and Regionals, we have been working on a specific goal, really to try to finish in the top 15.  Everyone was posting times from past meets where they were running under 17 minutes.  Darius' personal best time was 17:19."
On race day, Swimmer said Lambert kicked it up a knotch.  "He ran one of the most beautiful races I have seen.  He got up front early and stayed in within the lead pack.  After the two-mile mark, I saw where he was and I about had a heart attack, but looking at the leader's times, I just let loose of the reins and told him to go as he felt!"
Lambert moved from 15th to fourth in the last 50 yards of the race.  "That's when I passed out," Swimmer said laughingly.
"Darius ran a smart and a tough race in the mud and rain.  This young man is built to race."
Blakely Moore, Highlands, won the girls title with a time of 20:42.13.  She was followed by SMC champion Shawnda Martin, Robbinsville, at 20:44.22 and Michaela Gammon, Lincoln Charter, in third at 20:53.79.
Gray Stone Day School won the girls team title and Walkertown won on the boys side.
Swimmer said he is thankful for a successful season for all teams.  "I would like to give thanks to all the parents and fans for all their support and to my coach Ahli-sha Stephens.  She is not my assistant, but my equal.  I depend on her a lot.  And, I thank the Lord for giving us a great season and finishing without any major injuries."
– One Feather staff report