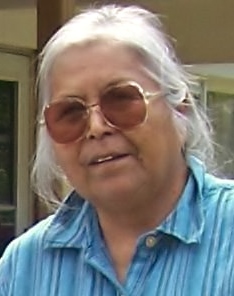 Maggie Lossiah, 80, went home to be with the Lord on Thursday, Oct. 15, 2015 while among her loving family at the Cherokee Indian Hospital.
She was the daughter of the late John Rome Lossiah and Charlotte (Welch) Lossiah, both of the Cherokee community.  She was a member the Straight Fork Baptist Church of the Big Cove Community and a life-long resident of Cherokee.  She worked for Vassar as a seamstress in her past and with the Cherokee's Retailer making arts and crafts.  She also worked for a short time at the Cherokee Trout Farm.  Privately, she made her own arts and crafts which she sold through the Qualla Arts and Crafts Co-Op.  She was a kind and loving mother who was a mother figure to all.  It was said she'd never let anyone go hungry!
Maggie is survived by her children, daughter, Genoa Lossiah of Cherokee; son, Thomas Lossiah with wife Charlene of Clyde; daughter, Charlene Lossiah of the home; brothers, Jack Lossiah and Willard Lossiah of Cherokee; sisters, Jane (Lossiah) Taylor and Dorothy (Lossiah) Thompson; aunts Elsie Watty, Molly Herbold and Annie French; one grandson, John Nathanial Lossiah; and several nieces and nephews.
Along with her parents, Maggie is preceded in death by brothers, Paul, Charlie, Larch, Homer, John-Adam, Noah and Woodrow; sisters, Mary, Luzene, Frieda, Frances, and Martha; Nephews, Tony Lossiah and John Russell Lossiah; and great nephew, Cylas.
Funeral services were held at Straight Fork Baptist Church on Monday, Oct. 19.  Rev. Charles Ray Ball, James "Blue Jay" Sequoyah, and James "Red" Bradley officiated.  Burial followed at the Lossiah Family Cemetery.  Pallbearers were Little Ed, Perry Shell, Dwayne Bird, Eddie Hill, Jerry Taylor, Arab Bradley, Dennis Taylor, Earl Martin, Kirk Lossiah, Albert Martin, Maury Lossiah and Nolan Crowe.