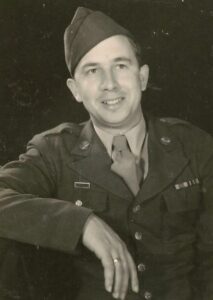 James Don Ashe, age 94, of Sylva, passed away Tuesday morning, Oct. 20, 2015. He was the son of the late Garland Hiram and Margaret Hooper Ashe. He is survived by his wife of 68 years, Louise Paxton Ashe.
He was a WWII veteran serving in the European Theater from 1942-1945. He received five major battle stars during his time in the Army. He retired after 24 plus years from the Bureau of Indian Affairs at the Cherokee Agency in 1984. Don was well known for his woodworking and carving. He also loved gardening and spending time with his family. He could be found horse trading at any local flea market or yard sale. He cherished his mountain heritage and the work ethic that evolved from being raised one of 13 siblings in the Speedwell Community.
In addition to his wife, Don is survived by one daughter, Donna Ashe Lucas of Cullowhee and one son, Jimmy Ashe of Sylva; three grandchildren, Matt Lucas of St. Augustine, Fla., Paxton and Callie Ashe both of Sylva; two brothers, Cliff Ashe of Lawndale and David Ashe of Southlyon, Mich.; and one sister, Fannie Edgerton of Rutherfordton.
A funeral service will be held Saturday, Oct. 24 at 2pm in the chapel of Appalachian Funeral Services with the Rev. David Powell, Del Reid and Rev. Avery Brown officiating. The family will receive friends from 1-2pm one hour prior to the service. Burial will follow at Fairview Memorial Gardens.
Appalachian Funeral Services is in charge of arrangements.