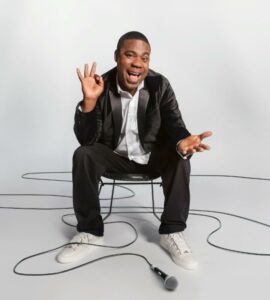 Comedian Tracy Morgan has announced that he will be bringing his "Picking up the Pieces Tour" to Harrah's Cherokee Casino Resort on Feb. 13 at 7:30pm.
Multi-talented comedian Tracy Morgan is back at it announcing the "TRACY MORGAN: Picking up the Pieces" tour, his latest major multi-city standup tour starting in February 2016. After a triumphant return to the Hollywood stage at this year's Emmy Awards and a visit to his old stomping grounds at SNL, audiences can look forward to the entertainer doing what he does best: bringing bags loads of funny and making people laugh.
"It's just like falling off a bike and getting back on, that's all: you don't forget where the pedals are", Morgan says on getting back to touring, "People can expect more of what I did before. It's me: funny + truth = Tracy Morgan. I can't wait to get back to ya'll; city to city, state to state, watch me operate."
Starring for seven seasons on NBC's Emmy and Golden Globe Award-winning "30 Rock," Morgan appeared opposite Tina Fey and Alec Baldwin as "Tracy Jordan," the unpredictable star of Lemon's (Fey) hit variety show, "TGS with Tracy Jordan." In 2009 Morgan received his first Emmy Nomination for this role, in the Supporting Actor category; he has also been nominated multiple times for a Supporting Actor NAACP Image Award.
Morgan has successfully turned his love for standup comedy tour into a couple of TV specials. His first, an HBO Special titled Black & Blue and the second, a Comedy Central Special, titled Tracy Morgan: Bona Fide, which brought Comedy Central one of its largest viewership for a standup special in 2014. He also headlined the famed "New York Comedy Festival" which featured acclaimed comedians including Bill Maher, Andy Samberg, and Patton Oswalt, among others. To round out his list of achievements, Morgan released his first book entitled I Am The New Black, a compilation of studied anecdotes and some of the more serious moments that shaped him and his career.
He was first introduced to television audiences in his role as "Hustleman" on the hit comedy series "Martin." He went on to join "Saturday Night Live" in 1996 where he appeared for seven seasons and created such memorable characters as "Astronaut Jones" and "Brian Fellows". Morgan has been a part of some of the most successful animated films in recent years. In 2009, he made his animation debut lending his voice for Jerry Bruckheimer's G-FORCE. In 2013, he starred as the bulldog, Luiz, in the colorful and lively film RIO and again in April 2014 when he reprised his role in RIO 2. Morgan's voice can also be heard in the Oscar-nominated film, BOXTROLLS, as one of the film's antagonist, Mr. Gristle.
Tickets go on sale starting Friday, Oct. 23 and you can check out www.TracyMorgan.com/tour to get the full tour list as well as the latest updates on the "TRACY MORGAN: Picking Up The Pieces" tour.
– Harrah's Cherokee