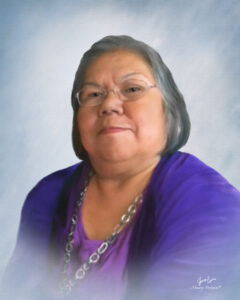 Lena Smoker Martin, 61, of Marble, passed away Tuesday, Oct. 13, 2015 at Murphy Medical Center.
Lena was a native of Swain County but lived most of her life in Cherokee County. She was the daughter of the late Owen and Ida Teesateskie Smoker. Lena worked for many years for the Murphy Public Library and was a former member of the Cherokee County Indian Community Club.
In addition to her parents, she was preceded in death by her husband, Albert Martin Sr.; three brothers, Sam Teesateskie, Davidson Smoker and Owen Smoker Jr. and one sister, Alice Jumper.
She is survived by her best friend and companion, Dwayne Ledford; two daughters, Helen Martin, and Angela Martin and husband Joseph of Marble; two sisters, Bonnie Teesateskie and Agnes Adams both of the Snowbird community; and four grandchildren, Maleaha Brings Plenty, A.J. Martin, Otter Weston McMillan and Olivia Martin.
Funeral services were held on Saturday, Oct. 17, 2015 at the Townson-Rose Funeral Home Chapel in Murphy. Rev. Katherine Martin officiated. Burial was in the Martin Family Cemetery in Marble. Pallbearers were Cliff Owl, Randy Adams, Dwayne Ledford, Kenny Jumper and Ricky Rice.
In lieu of flowers memorials may be made in memory of Lena Smoker Martin to the charity of your choosing.  You may send tributes to the Martin family at www.townson-rose.com
Townson-Rose Funeral Home was in charge of all arrangements.