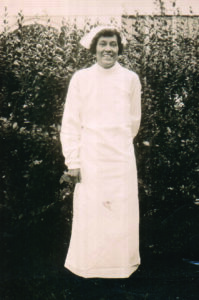 RALEIGH – The North Carolina Nurses Association (NCNA) is recognizing more than 20 people for helping lead nursing forward in North Carolina. NCNA honored the nurses and nursing advocates last week at an Awards Luncheon during its 108th Annual Convention, which was held in Concord this year. This list of award winners includes longtime nurses, well-respected volunteers, and a healthcare economist.
Among the honorees was Hall of Fame inductee Lula Owl Gloyne, RN, the first Eastern Band Cherokee Registered Nurse and possibly the first Native American Registered Nurse in the United States. Gloyne, who was also an EBCI Beloved Woman, went to Washington, DC, in 1934 and addressed the US Congress on the need for a hospital for the Eastern Band Cherokee. Her testimony helped secure a hospital which provided the first inpatient care in Cherokee. Gloyne went on to become the head nurse of the hospital.
Her great granddaughter, Sarah Wachacha, accepted the award on behalf of Gloyne, who passed away in 1985.
"We are so proud to recognize each of these award winners," said NCNA Immediate Past President Megan Williams, MSN, RN, FNP. "Their leadership advances the nursing profession, and the positive effects on North Carolina and beyond cannot be overstated."
Established in 1902, NCNA provides continuing education, networking and legislative advocacy for registered nurses throughout North Carolina.
– NCNA