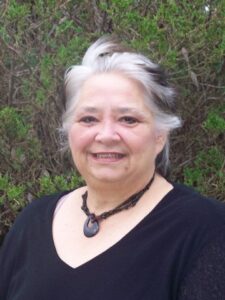 Donna Kim Hawkins Cowling, 59, of Cherokee, was called to be with her heavenly father on Friday, Oct. 9, 2015.
She was born on April 20, 1956 to the late Leland Don Cowling and Dorothy Elaine (Tap) Moles.
She was preceded in death by both parents; a grandfather, Kyle Moles; a grandmother, Vera Bradley Moles; and one aunt, Carolyne Moles.
She is survived by three children, Jean Nichole Dozier of Cherokee, Rachel Danielle Arden of Ada, Okla., and Charles Bradley Hawkins of Byars, Okla.; two son-in-laws, Dennis Dozier of Cherokee and David Arden of Ada, Okla.; two sisters, Pamela Marks and Carolyn Beth Rossiter, both of Cherokee; one brother, Denny Moles of Thailand; two aunts, Janice Sutton and Maxine Bumgarner, both of Gastonia; two uncles, William Moles of Hartsville, SC and Billy Sutton of Gastonia; five wonderful grandchildren, Noah Hornbuckle, age 17, Madalynne Dozier, age 5, Mecca Dozier, age 2, Maverick Arden, age 5, and Emaleigh Arden, age 2; two nieces, Kathy Polk and Amy Rossiter; two nephews, Travis Moles and Jeffery Kowalzek; and various cousins and many friends.
Donna lived most of her life in Oklahoma.  She was a member of the Church of Latter Day Saints.  She was a homemaker who stayed home and raised her kids, and she did a wonderful job at doing it.  When Donna started having grandchildren, it changed her life for the better.  Her five grandchildren were her world.  Donna has always enjoyed life to the fullest.  There was no way of ever slowing her down, especially when it came to mentioning the casino.  You couldn't catch her.  She had some very special friends that meant the world to her.  She definitely valued her friendship with all of them.  Donna was a woman that will be cherished by all.
Visitation will be held on Tuesday, Oct. 13 at the Church of Latter Day Saints located on 441 in Whittier starting at 6 pm.  Donna will remain at the church until the hour of service on Wednesday, Oct. 14 at 2pm.  Bishop Cutler will officiate.  Burial will follow at the Bradley Cemetery in Cherokee.
Long House Funeral Home is assisting the Hawkins family.