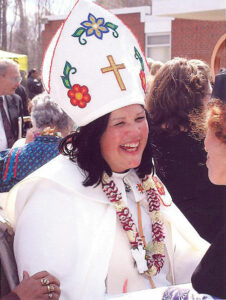 Rt. Rev Carol Walkingstick Gallagher, the first American Indian woman to become an Episcopal bishop, will visit St. Francis Church in Cherokee on Sunday, Oct. 18.  She will lead a service of Holy Communion from 9:30-10:30am.  Following the service, she will share her experiences in church leadership roles across the country.  At 12:15am, there will be a potluck dinner including Cherokee bean and chestnut breads.  The public is invited to join St. Francis members in worship, discussion, and dinner.  If you want to join for dinner, please call and leave a message with Roger Clapp 507-9144 or clapprb@gmail.com.
The Rt. Rev. Carol Gallagher is a citizen of the Cherokee Nation. She has memories of visiting Cherokee in her youth. Currently, she serves as Assistant Bishop in the Diocese (region) of Montana and as leader in the Episcopal Native Collaborative.  As bishop, Rev. Gallagher, she has served in New Jersey and Virginia, and before that she has led churches in Boston and Delaware.
As the first American Indian female bishop in the Episcopal Church and the first Indigenous female bishop in the worldwide Anglican Communion, Carol shows her gratitude to God by honoring her elders' love and teachings, and by offering her gifts and skills for Christ's service and to do justice within and beyond the Church.
– Roger Clapp