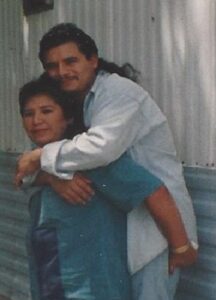 Gary Lynn "Dino" Littlejohn, 50, of Cherokee passed away Tuesday, Sept. 29, 2015 at Med West Harris Hospital in Sylva.
She was born Aug. 19, 1965 in Charlotte to the late Annabelle Littlejohn Cucumber.  She made her way thru life by working as a housekeeper in the lodging industry and was a loving mother to her children.
Surviving are her step-father, Alfred Cucumber; three sons, Wilfredo Thomas Gomez of the home, Armando Mendoza and Florentino Mendoza, both of Stewart, Florida; two daughters, Selena Ann Herrera of the home and Adrianna Mendoza of Stewart, Florida; three brothers, Jonathan Dwight  Littlejohn, Alfred R. Cucumber, and Eric Cucumber; two sisters, Pauline Sixto and Heather Cucumber; Aunts, Yahnie Squirrell, Arnessa Wilnoty, and Laura Saunooke; one special aunt Betty Locust; special cousins, Victoria Locust and Adrianne Locust; Close friends, James and Minnie Ledford; and 10 grandchildren.
In addition to her mother, Dino is precededed in death by a son, Christen Anthony Gomez; grandparents, Owen Littlejohn and Agnes Bigwitch Littlejohn; and uncles, Ammons Littlejohn and Johnson Lee Littlejohn.
Funeral services were held Friday, Oct. 2 at the Long House Funeral Home Chapel with Rev. James "Bo" Parris officating with burial following at the Annabelle Littlejohn Cemetery on Washington's Creek.  Pallbearers were Wendell Locust, Thomas Gomez, Armando Mendoza, Florentino Mendoza, Jonathan Littlejohn, and Ethan Larch.