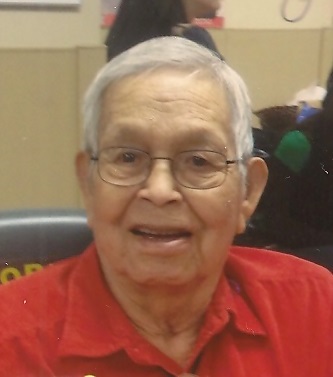 Everett Cucumber, 83, of Beckley, WV died Tuesday, Sept. 29, 2015, at the Beckley VA Hospital.  He was born in Cherokee on Dec. 16, 1931, and is the son of the late James and Elizabeth Reed Cucumber.  In addition to his parents, those gone on before him are four sisters, Geneva Tooni, Amanda Wachacha, Ollie Hornbuckle, and Nellie Welch; five brothers, Dave Cucumber, Mason Cucumber, Sr., Lawrence Cucumber, Calvin Cucumber, and Rev. Johnny Cucumber; wife and mother of his children, Letha Saunooke Cucumber; son, Marion (Sonny) Cucumber; and granddaughter, Casey Bradley.
Those awaiting to join Ed's joyous celebration party with The Lord include Kelly (Pinoke) of Princeton, WV, his love and best friend for the last 18 years; one sister, Francis Cucumber of Cherokee; two sons, Melvin Cucumber of Cherokee and Raymond Cucumber of Asheville; three grandchildren, Erica Bradley, Cayla Cucumber and James Cucumber, all of Cherokee; five great-grandchildren; a multitude of nieces and nephews; and special nephew Frank Cucumber, wife Judy, and their daughter Angela of Cherokee.
Ed is 15/16 blood Cherokee Indian. Today, Ed is no doubt the happiest he has ever been, having entered a city called Glory, so bright and fair, with the Angels meeting him there, going down the streets of Heaven, he assuredly by his faith beholds the face of the one who died for all, his beloved Jesus. Special thank you to the staff of the 4th & 6th floors at Beckley VA hospital and to Dr. William Boyd.
A gathering to celebrate Ed's life will be held at 2p.m. Friday, Oct. 2 at the George W. Seaver Chapel of Seaver Funeral Home in Princeton with Pastor Erma Jean Hudgins officiating.  Burial will follow at Oakwood Park Cemetery in Princeton.  The Mercer County Veteran's Council will conduct military graveside rites.  Friends may call at the funeral home from 12:30 p.m. until the service hour Friday.  Online condolences may be made and complete obituary viewed by visiting www.seaverfuneralservice.com