REVIEW By LT. COL. KINA B. SWAYNEY (Ret.)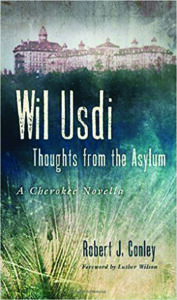 Through fact and fiction, the late Robert J. Conley, a renouned writer and historian of Cherokee history, recounts the life of Will Holland Thomas in this brief novella entitled "Wil Usdi: Thoughts from the Asylum".  Better known to the Cherokees as Wil Udsi or, "little Will" he came to play a prominent role in Cherokee history.  Will spent his early childhood in the mountains of Western North Carolina, raised by his mother and later adopted at the age of twelve by Yonaguska, or "Drowning Bear", a respected leader of the Cherokee.
Conley artfully blends fact and fiction through his unique writing style to show that Will was many things throughout his life, but more than anything, he was a man of character; a store keeper as a young boy who gained trust of the Cherokee, a talented lawyer as a young adult; and later a successful politician and businessman, Not only that, he was an officer, leader and diplomat. We can remember him best for his character, the common thread that's woven throughout his life.  He was a leader with extraordinary moral courage, always putting others before himself and standing up for his beliefs. Later as an Officer in the Confederate Army, Cherokee warriors fought under the leadership of Will Holland, not in support of slavery, but out of loyalty to Wil Udsi, whom the Cherokee regarded as their Chief and out of defense of their land as they saw the encroachment of an invading Army onto our land.
Conley tells Wil's story though recollections during the last decades of his life spent in a mental institution. These recollections were sometimes recalled with clarity and vivid memories, while other times his thoughts were clouded by doubt, but always with a deep appreciation of his life among the Cherokee.  Despite the tragic nature of his last days, Conley paints a vivid picture that brings to life the character and accomplishments of Will Holland Thomas.  As a lawyer and advocate for the Cherokee and with money the Cherokees were awarded for land settlements, he bought land known as the Qualla Boundary, allowing the Cherokee to remain in our ancestral home in the Great Smokey Mountains.  This is the story of a remarkable man who left a legacy that's ever enduring as the Cherokee. Today, we live that legacy as we continue to thrive in our native home.
Swayney, an EBCI tribal member, is a retired Lt. Colonel in the U.S. Army.