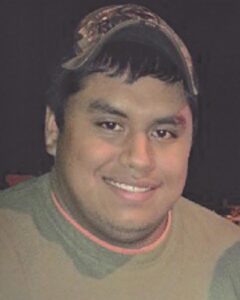 Christian Shane Sneed, 22, of Cherokee, passed away on Sunday, Aug. 23, 2105 from injuries sustained in a motorcycle accident.  Shane is the son of Robert Sneed and Jaclyn Sneed(step-mother) and Trina Lousie Rhinehart and Jim Panther (step-father).
Shane is survived by his paternal grandparents, Herbert Sneed Sr. and Merlina Sneed; paternal step-grandparents Jack and Rebeccah Riggs; aunts, Marina Robins(husband Mark), Jeannie Littlejohn(husband Jason), Leauna "Bo" Stone (husband Robert), Michelle Sneed (husband Ray Long) and Jacquelina "Nena" Loch (husband Zach); uncles, Herbert Sneed Jr. and Danny Rhinehart; brothers, Kennan Panther and brother-in-law Jesse Hix; sisters Chavis Panther Hix, Victoria Heinz, Jordan Elise Maney, Kamea Sneed, Brittany Gurrola, Jaime Prezleigh Panther, Brynn Elizabeth Korte and Monroe Braelyn Sneed; paternal cousins, Johnny, Jaisa, Carter, Dorien, Drew and Talon; maternal cousins, Shelby, Davis, Jon and Erin.
Shane is preceded in death by one sister, Darin Nicole Panther, and maternal grandmother ,Pattie Sue Wahnetah.
A funeral service was held on Wednesday, Aug. 26 at the Wolfetown Community Center.  Burial followed at The Shane Sneed Memorial Garden Cemetery.  Pallbearers were among family and friends.  Pastor Foreman Bradley officiated.
Long House Funeral Home assisted with arrangements.