By AMBLE SMOKER
ONE FEATHER STAFF
The new Cherokee Children's Home officially opened its doors on Friday, Aug. 14 at a ribbon cutting ceremony at the new location on Goose Creek Road in the Birdtown community of Cherokee.
Former Boys Club General Manager Ray Kinsland, stated, "I'd like to thank everyone who's helped the Children's Home in any way.  We've been going (over) 40 years and served close to two-thousand children.  We want to thank everybody that has helped, lived, and worked in it."
Vice Chief Larry Blythe said, "We've got Gunnie (Bradley) here today.  She put a resolution in after visiting the old home and said, 'we need a new one.  She is the push to push the Tribal government, and certainly a lot of other staff, to make this a reality and here we are today."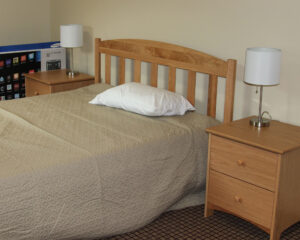 Gunnie Bradley commented, "I'm just so proud and happy that this day has finally come by.  I was so afraid that it wasn't going to happen.  Thanks to everybody in Tribal Council and the Children's Home staff, thank you so much for helping.  We couldn't have done it without you."
The new Children's Home is equipped with state-of-the-art energy efficient appliances and infrastructure which has immediately impacted the energy bill.  The home includes two identical housing cottages with a lounge area in the basement of the main cottage.  The new home will offer the ability to house nine kids in each cottage for a total of eighteen kids.  Each child will have their own bed and bedroom rather than having roommates like they do at the current home.  The campus sits on 28 acres with the opportunity for more outdoor activities and possible growth in the future.
The new home also allows for greater flexibility in serving the children who utilize the facility.
Cris Weatherford, Cherokee Children's Home director, related, "In the current home, we might have two empty beds but based on what's already in the house, sometimes we can't take kids even though we have an empty bed.  The way this new building is designed and laid out really minimizes that, so if we have any empty bed, we will more than likely be able to use it."
The Cherokee Children's Home was established in 1969 and has been the permanent or temporary home for close to 2,000 Cherokee youth over the years.