By SCOTT MCKIE B.P.
ONE FEATHER STAFF
The two candidates for the Office of EBCI Vice Chief squared off in a presidential-style debate at the Chief Joyce Dugan Cultural Arts Center on the night of Tuesday, Aug. 4.  Incumbent Larry Blythe and Candidate Richie Sneed participated in the debate, thought to be the first of its kind in tribal history, which was sponsored by the Cherokee One Feather and the Junaluska Leadership Council (JLC).
The candidates were offered 17 questions on varying topics including revenue diversification for the Tribe, substance abuse issues among tribal members, land use issues, ethics, term limits, freedom of press and more.  Robert Jumper, One Feather editor, moderated the debate and Lou Montelongo, a JLC member from the Yellowhill Community, served as the timekeeper.
To open the debate, each candidate was asked what they felt was the most pressing issue facing the Eastern Band of Cherokee Indians.  Sneed said, "Currently the single revenue stream coming from Harrah's is under threat with Georgia proposing gaming and also with the Catawbas trying to come into North Carolina to begin gaming there."  He said if those things come to fruition, the EBCI is carrying too much debt.  "We have become accustomed to this large revenue stream.  The size and scope of government continues to grow every year."  Sneed said he would work to implement "an aggressive repayment plan of the debt."
Blythe responded, "The aggressive repayment of the debt is underway by building the second casino.  That was the purpose of it.  That casino will be paid for in five years."
He added, "The number problem on this reservation is drugs.  That affects every family.  It affects the health of those families.  It affects the way the children are treated."
The issue of ethics in government was discussed and Blythe said he is for the creation of a Tribal Code of Ethics that would govern all elected officials.  He said he hopes it will include clear accountability as well as clear sanctions or penalties when those ethics policies and laws are broken.
Sneed said, "Why has it taken this long to have a Code of Ethics come up?"  He said it is very needed and applauded the Tribal Council for passing the legislation to create the Code of Ethics Committee.
Term limits for elected officials were discussed.  Sneed commented, "I am absolutely in support of term limits."  He said that having people in office for decades has historically been a "breeding ground for corruption" and he supports limits of two terms for both Principal Chief and Vice Chief and four terms for Tribal Council representatives.
Blythe retorted, "I don't agree with term limits."  He added that he has served in elected office for 26 years (14 on Tribal Council, 12 as Vice Chief).  "If you think I'm doing a good job, vote me back in.  If you don't think I'm doing a good job, vote for the other guy."
Diversification of the tribal revenue stream has been a hot topic during this election season.  Both candidates weighed in on that issue.
"We've had a good monopoly, but that monopoly is being threatened," said Sneed.  Some of the ideas he has for revenue diversification include: acquiring existing businesses for the Tribe, forming start-up companies that could compete for 8A contracts, diversifying the Tribe's investment portfolio, and expanding gaming into Georgia.
Blythe related, "Section 17 is not the answer.  We're a tourist destination."  He also advocated for finding 8A contracts as well as the development of small businesses that could be formed using low-interest loans.
Freedom of press was also discussed.  "The Cherokee One Feather is under the tribal umbrella, and as such, it answers to a Deputy which answers to the Executive," said Blythe.  "Its budget is passed by the Tribal Council, but I think if we're going to have a true free press, we have to get it to where it stands alone."  He said a committee could then oversee the paper.  "I do believe that if we're going to get to a true free press, it has to stand alone."
Sneed said, "The editor has to have latitude to be able to publish the articles that he or she decides are most important to the Tribe without fear of retribution or backlash, i.e. being fired, because that piece of editorial journalism or investigative journalism may be critical of an elected official.  In order for that to happen, the One Feather…is going to have to come out from under that authority and answer to a committee."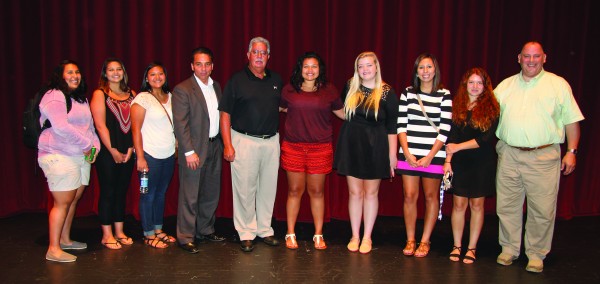 He added, "We absolutely have to have a free press, and in order for that to happen, the editor cannot live in fear of losing his or her job because of an article that was published."
The overall role of the Vice Chief was discussed.
Sneed noted, "I'm going to be the hardest working elected official in the Tribe.  My commitment to you is that you're going to see me everywhere because I'm going to be working for you."
Blythe commented that he currently oversees 11 different departments within the Tribe.  "The role of the Vice Chief is to have that open door."  He told the crowd that he saw 20 different people on 20 different issues that morning.  "The Vice is one heartbeat away from being Chief.  That's the importance of having experience."
At the end of the debate, each candidate was given four minutes for a closing statement.
Sneed said, "As I see it, when we're faced with adversity, we have one of two choices.  We can take a path that's rooted in fear and pull back and do very little or nothing at all, and at that point, our circumstances will then dictate to us how we will now live.  Or, we can choose the higher road and choose to step out in courage and come together as a community and courageously face the adversity head-on and overcome it."
"I think that we're really at a crossroads at this point.  The decisions that are going to come out of this next election cycle are going to impact us as a people for, I believe, generations to come, and so your participation in the process is imperative at this point.  It's my opinion that the inefficient model that's been developed by the current administration is an idea whose time has passed.  We can no longer continue to expand the size and scope of our government spending every penny that comes in.  That has to stop."
Blythe commented, "Each day I go to my office just to serve you.  Do I satisfy all of you?  Never.  But, I go in there committed.  I go in there and try to treat you as fairly as I do the next person who comes through my door, and I do what I do openly."
"On issues that come in front of me, I'm going to use my best judgment as the Oath says what is most conducive for the benefit of the Eastern Band of Cherokees.  That's my Oath.  That's what I've tried to do for 26 years…I love the job I've done.  I love the people I serve, and I am going to continue to give you that good effort."
To view the entire debate online: https://livestream.com/accounts/10717024/events/4242701