Freeman Littlejohn, 55, of Cherokee, passed away on Jan. 12, 2015 at the Med West Harris Community Hospital in Sylva following an extended illness.
Freeman was the son of Jim Bigwitch and Ollie (Littlejohn) Bigwitch of Cherokee.  He was a carpenter of general construction but it was said he could do anything. He was a friend to those that knew him and made friends with many.  He will be sadly missed.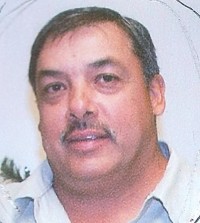 Freeman is survived by his wife Tashauna (Cunningham) Littlejohn; natural children, daughter, Ginger Cucumber with husband Derrick; sons, Phillip Littlejohn, Kenny Griffin and Kevin Smith; step children, Jacelyn, Braylon and Cyrus James; brothers, Andrew Littlejohn and Allen Ramsey; sisters, Joyce Taylor with husband Bob, Clara Sequoyah, Mary Wolfe with husband Jonah, Brenda Ramsey and Annee Young; grandchildren, Cory Johnson, Emre Johnson and Kollin Griffin; great-grandson, Mitchell Johnson; nieces, Shannon and Sharron Littlejohn; nephews, Mathew and Curtis Littlejohn, Blaine Wolfe and Bo Taylor all of Cherokee.
He was preceded in death by brother, Phillip "Mitch" Littlejohn and Clarence "Britches" Cucumber; twin brother, Leshea Littlejohn; grandmother, Eliza Jane Youngdeer.
Freeman had a visitation in the chapel of Long House Funeral Home on Wednesday, Jan. 14 followed by a funeral service the next day on Thursday, Jan. 15 with Pastor Greg Morgan, of Rock Springs Baptist, officiating.  The funeral was followed by an immediate burial in the Bigwitch Family Cemetery along Blue Wing Rd. of the Wolftown Community with Curtis Littlejohn, Ben Fuller, Kevin Smith, Michael Morgan, Nicodemus Bushyhead, Steven Watty, David George, Sam Toineeta, Don Ross and Joel Queen acting as the pall bearers
The family has made a request that in lieu of flowers that donations be made to the Cancer Support Group of Cherokee or the Rock Springs Baptist Church.