Richard C. Lambert, 55, of 33 Saunooke Drive in Cherokee, went home to be with the Lord on Tuesday, Jan. 6, 2015 while fighting an extended illness at the Cherokee Indian Hospital.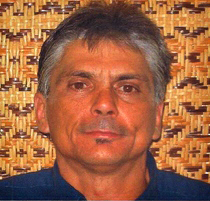 Richard was the son of the late J.D. Lambert and Mary Seonia (Fuller) Lambert of Cherokee.
Richard is survived by his wife Peggy Lambert with grandchildren, Braelyn and Marley Murphy; daughters, Jessica Lambert, Allison Lambert, Shakira Bradley and Chavis Wright; sister, Denise Ballard; brothers, Buddy and Mark Lambert all of Cherokee and brother, Lumpy Lambert of Waynesville.  Richard also leaves behind 10 grandchildren.
He is preceded in death by daughter, Brianna Bradley; brother, Will Lambert and his aunt and foster mother, Miriam "Babe" Wolfe.
A funeral service was held for Richard in the chapel of Long House Funeral Home on Thursday, Jan. 8 starting at 2pm. Brother Jimmy Lambert officiated services.