Jonathan Larch Taylor Jr., born July 30, 1973, went home to his Mansion in Glory with his Saviour on Wednesday, Jan. 21, 2015.
He is survived by two sons, Derrick Taylor and Damon Taylor of Cherokee; three grandchildren, Zaynon Taylor, Jacoby Taylor and Anayah Taylor;  mother and father, Jonathan Taylor Sr. and Cleo Proctor Taylor; sisters, Frances Taylor, Sherry Southards and husband Chris, Edith McCall and husband James, Savannah Wilnoty and husband Michael, brothers Dennis Edward Taylor and wife Katrina, and Larch Taylor all of Cherokee; several nieces and nephews whom he loved dearly, along with aunts and uncles and special uncle Dan McCoy.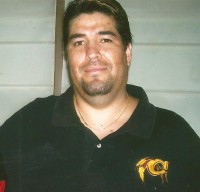 He is preceded in death by grandparents Olin and Emma Proctor of Bryson City and Larch and Dixie Taylor of Cherokee and a dear Nephew Michael Dennie Wilnoty of Cherokee.
He was an avid sports fan of the Atlanta Braves, Pittsburg Steelers, Tennessee Volunteers and North Carolina Tar Heels. He coached many boys in youth football and baseball in Cherokee and was very proud of them.
Funeral services will be held at the Aquoni Baptist Church in Cherokee on Friday, Jan. 23 at 2pm of which he was a member. Reverends Denny Crowe and Ed Kilgore will officiate with burial in the Mary Blythe Cemetery.
Family will receive friends from 5pm – 12am on Thursday night at the church.
He will be greatly missed by his large family and friends.
Crisp Funeral Home is in charge of arrangements.
Pallbearers will be Buford Smith, Chad George, Jack Jackson, Timmy Ray Smith, Michael Wilnoty, Dawson Wilnoty, Chris Southards, James McCall and J.R. Hornbuckle.