By ROBERT JUMPER
ONE FEATHER EDITOR
At the Jan. 8 session of Tribal Council, Patrick Lambert announced his retirement from the Cherokee Tribal Gaming Commission. This will end his 22-year history with the commission.
Lambert stated, "Over the past few weeks, I have been wrestling with making a decision on a very important question. And, out of respect to Council and all enrolled members, I wanted to come before you today and officially and publicly announce my decision. I am going to retire from my position as Executive Director of the Cherokee Gaming Commission after almost 22 years".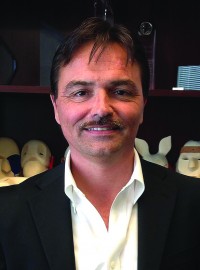 Lambert highlighted accomplishments during his tenure as Executive Director, including being the only Executive Director for the organization since its inception and drafting many pieces of tribal legislation that impact gaming. He also participated in several of the negotiations with the state on the gaming compact. Lambert's comments included his stated intent to run for Principal Chief in EBCI's upcoming elections.
It now falls to the Commissioners Donald Rose, Bob Blankenship and Sheila Davis to seek a new Executive Director for the Tribal Gaming Commission (TGC). There was no word at press time as to when that process will begin.
The TGC is an independent tribal gaming regulatory authority. It was originally established in 1989 as part of the tribal government's Executive Committee. It became an independent agency through the passage of Cherokee Code Ordinance #238 (www.cherokeegamingcommission.com). According to the commission's official website, "We are charged with the duty to ensure fairness and integrity of the gaming activities within our facilities and to protect the assets for the Tribe and the public health and safety of all who work and visit our facilities".