Osceola "Ossie" Smith, 81, of Cherokee, passed away on Tuesday, Dec. 23, 2014 following a hospitalization at Cherokee Hospital.
She was the daughter of the late Charles and Elma (Arch) Smith.  Ossie was a member of the  Yellowhill Baptist Church.  In her youthful years, she worked at the newly opened "Unto these Hills" drama and using her pottery and beadwork skills as she worked with the Cherokees making crafts for retail. She continued her arts and crafts by working with the Qualla Arts and Crafts as well as working at the Oconaluftee Indian Village as a villager, sculpturer and bead worker. Ossie was a well rounded, grounded woman who "knew the answer if you didn't".  She was a person who helped others as made clear by her working also as a CNA at the Cherokee Indian Hospital herself.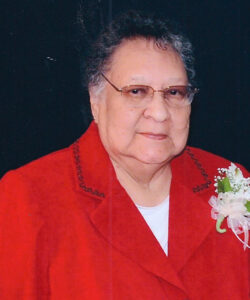 Ossie is survived by her daughter Vanessa (Lisa) Huskey with husband Richard; granddaughter, Kelly Smith with husband Travis; grandson, Delano Huskey; two great grandchildren, Rayce and Koen Smith; sisters, Wanda Bradley, Nancy Smith with husband Kenneth, Connie Cabe, Joan Henry with husband Ralph, Linda Raby with husband J.D. and Rebecca Bridges with husband Taylor; several nieces and nephews.
The family received friends Yellowhill Baptist Church on Friday, Dec. 26 with a funeral service following conducted by Pastor Foreman Bradley.  An immediate burial followed in Bethel Cemetery with Bob Bradley, Dean Bradley, James Raby, Tony Cabe, Terrance Cabe and Tommy Cabe acting as pall bearers.
Long House Funeral Home assisted the family in the final arrangements.