Cynthia Lynn Wachacha, 33, of the Snowbird Community passed away on Monday, Dec. 15, 2014 at Mission Hospital following an extended illness.
Cynthia is the daughter of Herman Wachacha, Sr. of Robbinsville and Berdina Wolfe of Cherokee.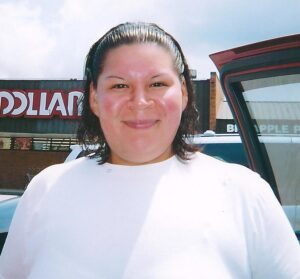 Cynthia is also survived by her sons, Kristian Martinez and Jose L. Martinez; brother, Herman Wachacha Jr. of Robbinsville sister, Megan L. Wachacha of Marion; necies, Maritsa S. Wachacha, Jordan L. Wolfe and Tara L. Wolfe, all of Cherokee; and nephew, Elijah L. Wachacha. Cynthia also leaves behind many aunts and uncles.
Cynthia is preceded in death by paternal grandparents, Henry Wachacha and Dinah Waldroup of Robbinsville; maternal grandparents, Eli and Irene Wolfe of Cherokee; brother, Travis Wolfe as well as aunts and uncles.
A visitation was held on Wednesday, Dec. 17 at the Zion Hill Baptist Church (Snowbird Community), and the funeral service was held on Thursday, Dec. 18.  Burial followed at the Ledford Cemetery. Pall Bearers were Joseph Wolfe, DJ Grindstaff, Ronnie Teesateskie, Patrick Teesateskie, Bernardo Cazares, German Garcia, Brett Crowe and Melvin Lambert. Pastor Noah Crowe and Pastor Michael Rattler officated.
Long House Funeral Home assisted in the final arrangements.