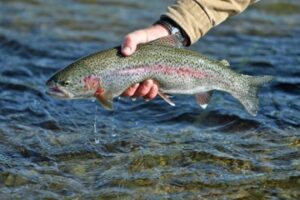 Need some relief from the mid-summer heat? Come to Cherokee July 18-19 for the annual "Cherokee Dog Days Fishing Tournament" where you can compete for your share of $10,000 in cash prizes.
For a modest $11 entry fee, you'll fish some of the most beautiful trout waters in the southeast as part this exciting tagged tourney. With 30 miles of privately stocked freestone streams, Cherokee boasts some of the best fishing anywhere in the country. Local waters are stocked twice each week and include many trophy sizes.
All waters are open for the tournament, with the exception of the 2.2 miles of catch-and-release waters that will be open to regular anglers.
It's simple. Anglers will find the waters already stocked with tagged fish. Catches can be redeemed for cash prizes up to $1,000 for the biggest fish at the Water Beetle stage, a pavilion next to the Cherokee Welcome Center on U.S. Highway 441.
The Dog Days Tournament is open to all ages and all legal fishing methods. Participants can register to redeem cash prizes anywhere fishing licenses are sold.
Info: visit: https://www.fishcherokee.com/
– EBCI public relations