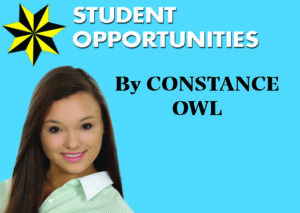 It is hard to believe that my time as a weekly contributor to the One Feather has come to an end. You may remember that this column originated as part of my Senior Exit Project as a senior at Murphy High School. I hope that it has supplied students with a wealth of information and support as they consider their education, enrichment opportunities, and academic and professional futures. Through presenting the material, I have gained great experience and enlightenment about the issues and opportunities facing Native students. With this, my final contribution, I would like to one last time highlight the statistics that helped motivate me toward this project.
American Indian students have a dropout rate

twice

the national average; the

highest

dropout rate of any United States ethnic or racial group.
Native students score

lower

on the SAT and ACT than Non-Native students.
American Indian students are

less likely

to earn a bachelor's degree or higher than their non-Native peers, accounting for

less than one percent

of those who have earned a bachelor's degree.
29.1 percent of Native families live

below

the poverty line.
Native Americans have the

highest

suicide rate of any race in the United States.
Alcoholism, drug abuse, and teen pregnancy remain debilitating social issues to most Native communities.
If tribal youth are the hope for a brighter tomorrow for Native America, our leaders, parents, teachers and students must become motivated and proactive. As students, we must recognize that we are bright, competitive, and deserving of those opportunities and be self-motivated for success. Even though the statistics above look bleak, it is up to us to turn them in another direction. We cannot allow the past disparity, discrimination, or inequality be a crutch or a curse. We ask that our parents and our grandparents vote for tribal leaders who will focus (and follow through) on education initiatives. And finally, we must honor our ancestors, and those who were denied the opportunities we now have, by taking full advantage of them.
Finally, I would like to thank Scot McKie Brings Plenty, Reporter at the One Feather, for giving me this amazing opportunity to share with my fellow Native students and community. Through his encouragement and trust, I have learned confidence and strength. I would also like to thank my parents, Cliff and Janis Owl, for always encouraging me as a student, my brother and sister, Patience and Cliff (Jake), for being outstanding examples and role models, and my mentor teachers, Mr. Caesar Campana and Mr. Lance Bristol, for their support and endorsement of my project. Lastly, the best of luck to all Native students. We have a great gift of a supported education through our tribe, please don't take it for granted. We are truly blessed!