The first assessment of the landslide which occurred on Wednesday, Jan. 16 the in Great Smoky Mountains National Park along Newfound Gap Road in North Carolina shows that the landslide is approximately 90,000 cubic yards of material or 350-400 feet. It is around the length of a football field and 45-50 feet deep.
The landslide undercut the road near mile marker 22 between Collins Creeks and Webb Overlook.  The slide is still active and an assessment team, made up of Park Staff and Federal Highways employees, observed debris continuing to fall.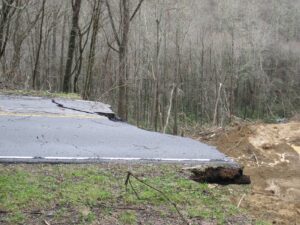 The Park still does not have an estimated time frame for the road to be open. Federal Highways and park staff are continuing to look at the site to assess options for repair and is hoping to have a rough estimate of a sometime in the next week. Inclement weather is expected over the next few days which may hinder the assessment team.
Further updates on the road condition will follow as details are determined.
– NPS