Kevin FitzGerald, Great Smoky Mountains National Park Deputy Superintendent, will retire on Thursday, Jan. 3 from 34 years with the National Park Service. He has served in the park as Deputy Superintendent since June 2006, and has had day to day responsibility for park operations, including Visitor and Resource Protection, Natural and Cultural Resource Management and Science, Facility Management, Planning and Professional Services, Resource Education, Concessions, Safety and Environmental Management and Administration of the Nations most visited National Park.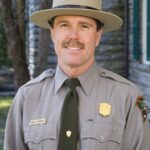 FitzGerald began his career with the National Park Service as a seasonal fee collector on the Blue Ridge Parkway. His first permanent job was as a Park Ranger in the Oconaluftee area of the Smokies near Cherokee.  He later served as a District Ranger at Everglades National Park, Chief of Visitor and Resource Protection at Chesapeake and Ohio Canal NHP in Maryland, Chief Ranger at Cape Cod National Seashore in Massachusetts and Chief Ranger of the Intermountain Region in Denver, Colorado before returning to the Great Smoky Mountains in his final permanent NPS position. FitzGerald also served as the acting Chief Ranger for the NPS in Washington, DC in 2002. During his time in the NPS, FitzGerald has been the recipient of two Department of the Interior Honor Awards for Superior and Meritorious Service.
While at Great Smoky Mountains, FitzGerald was involved in managing and maintaining the park's over 200 partnerships with a wide variety of conservation, education and park support groups. The park averages over 9 million visit per year, employs over 325 persons, has an annual volunteer organization of 2000+ who contribute over 120,000 hours annually.
"In just over 6 ½ years at the Smokies, Kevin made a significant impact in developing relationships with park gateway communities, partner organizations, and in recognizing the value and importance of each individual National Park employee," Superintendent Dale Ditmanson said. "The value of each individual was paramount in Kevin's focus on improving programs for employee health and safety."
In addition to his partnership work, FitzGerald played a key role in guiding the largest infrastructure improvement program in the park since the days of the CCC. The America's Recovery and Reinvestment Act (aka Stimulus) resulted in an investment of over $80 million in capital improvement projects to the Smokies. He also was instrumental in developing a relationship with the Tennessee State Historic Preservation Office leading to the approval of a Memorandum of Agreement for the future of Elkmont, developing a partnership construction agreement leading to the completion of the new Oconaluftee Visitor Center and developing and implementing the concept and plans for the rehabilitation of the CCC era comfort station at Clingmans Dome into a much needed visitor contact station and bookstore.
"Kevin's hard work, diligence, and commitment to excellence have left an indelible mark on staff and park partners alike," added Ditmanson.
FitzGerald was born in Richmond, Va., but grew up in the Winston-Salem area. He holds a Bachelor of Science in Parks, Recreation and Tourism Management from the School of Forestry, North Carolina State University (1980) and graduated from the FBI National Academy, Class 203 in December of 2000.  He and his wife of 31 years, Cyn Slaughter, married in the Smokies at the Oconaluftee Baptist Church at Smokemont. They plan to eventually relocate to western North Carolina.
– NPS