Alice Marie Jumper, 68, of the Jackson Branch Community in Robbinsville, passed away Wednesday, August 1, 2012 at Cherokee Indian Hospital.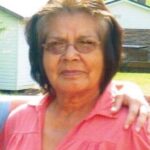 She was born in Cherokee, and was the daughter of the late Owen Smoker, Sr. and Ida Teesateskie Smoker. In addition to her parents, she was preceded in death by her husband, Jesse Jumper, in October 2006.
She is survived by her son, Kenneth Jumper of Robbinsville; her daughters, Lisa Ann Jumper of Whittier, Debbie Jumper of Robbinsville, and Teresa Santa Maria of Cherokee; her brothers, Davidson Smoker of Robbinsville; and her sisters, Agnes Adams and Bonnie Teesateskie, both of Robbinsville, and Lena Martin of Murphy. She has nine grandchildren and four great-grandchildren.
Funeral services will be held at 1pm on Sunday, Aug. 5 at the Townson-Smith Chapel. Reverends Bo Parris and Henry Ethridge will officiate. Burial will follow at Buffalo Baptist Church Cemetery. The family will receive friends from 6-8pm on Saturday, Aug. 4 at the Townson-Smith Chapel. Townson-Smith Funeral Home is in charge of the arrangements.
An online register is available at https://www.townson-smithfuneralhome.com/.