By SCOTT MCKIE B.P.
ONE FEATHER STAFF
                Vocational Opportunities of Cherokee (VOC) is selling Santa Dollars to raise funds for activities and to purchase Christmas presents for its clients.  The Santa Dollars, real U.S. legal currency, are available in both a one- and two-dollar variety.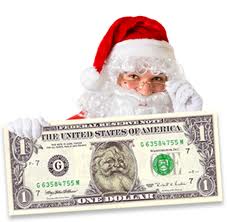 "All proceeds benefit the client activities program," said Lana Lambert, VOC vocational and community program coordinator.  "The funds raised will help make our clients Christmas even merrier and help provide for activities in the future." 
                Santa Dollars are real U.S. one and two dollar bills with a removable image of Santa Claus over the face part of the bill.  Once the Santa Claus image is removed, the bill can be spent normally. 
                Each bill comes in a decorative Christmas card.  The one-dollar bills sell for $2.50 and the two-dollar bills sell for $3.50. 
Lambert related that she first got the idea for the fundraiser when she purchased a Santa Dollar some years ago in Georgia.  The idea for Santa Dollars was originally hatched in 1985 by Marketing Productions, a company based in Palm Harbor, FL that helps organizations raise funds.  They also offer Bunny Bucks and Cupid's Cash. 
                Lambert related that VOC sold over 500 Bunny Bucks in the Spring and said they are the only provider of Santa Dollars in the area. 
                "We have the market on western North Carolina," she said. 
                VOC will sell Santa Dollars until Dec. 16 and Lambert says people should get them while they'll hot.  "I don't want them to wait until the last minute because after the 16th, they'll be gone." 
                Santa Dollars can be purchased at the VOC office in Cherokee or by contacting Lambert 497-9827 or lanalambert@ymail.com.