As part of American Indian Heritage month, the Museum of the Cherokee Indian has announced a series of new programs showcasing Ostenaco's and Henry Timberlake's journey to each other's countries as Emissaries of Peace two hundred and fifty years ago. The Museum of the Cherokee Indian will celebrate their stories and explore their two cultures—Cherokee and British—with seven events in four states in throughout 2012.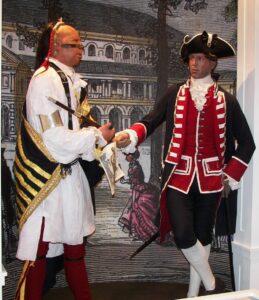 "We are looking forward to these exciting events, and taking this story of two cultures to a wider audience," said Ken Blankenship, Executive Director of the Museum of the Cherokee Indian and EBCI tribal member. 
     In 2006, the Museum created the exhibit, "Emissaries of Peace: 1762 Cherokee and British Delegations." It was designated a "We the People" exhibit by the National Endowment for the Humanities.  This designation is awarded to projects that encourage and strengthen the understanding of American history and culture and that advance knowledge of the principles that define America.
     During 2012, seven events and a public television broadcast will tell this story to new audiences.  A battle re-enactment, festivals with eighteenth century Cherokee living history, scholarly symposia, a television broadcast and a trip to London take place from Memorial Day through November. Additionally, a smaller version of the Emissaries exhibit will be on display at Fort Necessity National Battlefield in Farmington, Penn., and at the Sequoyah Birthplace Museum in Vonore, Tenn., while the original exhibit resides at the Museum of the Cherokee Indian in Cherokee, N.C. Two additional small exhibits are available for rental.
     Performances throughout the year bring history to life. Henry Timberlake and Ostenaco will provide first person historical interpretation.  The Warriors of AniKituwha, a traditional Cherokee dance group sponsored by the Museum, will be performing at all venues.  As official cultural ambassadors, this group has been at the center of cultural revitalization for Cherokee people. They have inspired pride in a little-known period of Cherokee history when Cherokees took part in global events. Timberlake's description of the War Dance that welcomed him is the basis for their revival of this and other traditional Cherokee dances. Research used in the exhibit has inspired and helped create cultural revitalization in traditional dance, Cherokee clothing, pottery, fingerweaving, feather capes and more. 
     The exhibit has been viewed by more than two million people since its opening in 2006. It was the first exhibit created by an American Indian tribe to be displayed at the Smithsonian, opening in 2007 at the Smithsonian Museum of Natural History. It has been on display at the Frank McClung Museum in Knoxville, Tenn., the Gilcrease Museum in Tulsa, Okla., and the North Carolina Arboretum in Asheville.
     Sponsors include the National Endowment for the Humanities, Cherokee Preservation Foundation, First Citizens Bank, The Cannon Foundation, Harrah's Foundation,  Colonial Williamsburg Foundation and the Museum of the Cherokee Indian.
     Info: www.cherokeemuseum.org.
"EMMISARIES OF PEACE" 2012 SCHEDULE OF EVENTS
MAY 26-27 – REENACTMENT OF MONTGOMERY AND GRANT EXPEDITION BATTLES ON SITE, MACON COUNTY, N.C.; PARTNERS:  Museum of the Cherokee Indian, Jim Moore, Fort Loudoun State Historic Site, Macon County Historical Society
MAY 1 – OCONALUFTEE INDIAN VILLAGE OPENS. Timberlake and Ostenaco will be in residence June-August. PARTNER: Cherokee Historical Association
JUNE 10 – CHEROKEE VOICES FESTIVAL, MUSEUM OF THE CHEROKEE INDIAN GRAND RE-OPENING OF EMISSARIES EXHIBIT; PARTNERS:  Museum of the Cherokee Indian, North Carolina Arts Council
JUNE 15 – CHEROKEE LONDON TOUR; Tour of places visited by the Cherokees in 1762:  PARTNERS: Gilcrease Museum (Dr. Duane King); Cultural Tourism Dept. of Cherokee Nation
JUNE  22-23 – TIMBERLAKE IN THE OVERHILLS:FORT LOUDOUN STATE HISTORIC SITE Symposium with scholars; "Timberlake in the Overhills" tours with Cherokee guides.  SEQUOYAH BIRTHPLACE MUSEUM Emissaries of Peace traveling exhibit; Living history demonstrations; Warriors of AniKituhwa; PARTNERS:  Museum of the Cherokee Indian; Fort Loudoun State Historic Site; Sequoyah Birthplace Museum; TN Humanities Council
JULY  7-8 – FORT NECESSITY NATIONAL BATTLEFIELD (Penn.), Event with Cherokee dance and living history; Emissaries of Peace small exhibit; PARTNERS:  Museum of the Cherokee Indian, Fort Necessity National Battlefield, National Park Service
JULY  18-22 – TIMBERLAKE AND OSTENACO IN WILLIAMSBURG (Va.), Historical drama; dance by Warriors of AniKituwha; camp of the Cherokees; PARTNERS:  Museum of the Cherokee Indian, Colonial Williamsburg American Indian Initiative
SEPT 14-15 – GRAND FINALE with SOUTHEAST TRIBES FESTIVAL, Living history, traditional dance, crafts, stickball games, blowgun competitions, from five original Southeastern Tribes. "Colonial Lifeways Presented by Colonial Williamsburg" including the Colonial Williamsburg and Fife and Drum Corps.  Timberlake family reunion; PARTNERS:  Museum of the Cherokee Indian, Cherokee Preservation Foundation, North Carolina Arts Council, Colonial Williamsburg Foundation
NOV 7-8 – EMISSARIES OF PEACE ELECTRONIC FIELD TRIP, Colonial Williamsburg PBS Broadcast of documentary film; live studio call-in; PARTNERS:  Colonial Williamsburg Foundation, Museum of the Cherokee Indian
– Museum of the Cherokee Indian