Documentary filmmaker Bruce Bowers and Bowers Media Group, Inc. have finished a film entitled The Blue Ridge Parkway: A long & Winding Road.  Many books have been published about the Parkway, but Bowers' historical documentary is first to break news by revealing a stunning secret political deal that determined the route of the Parkway and altered the course of American society.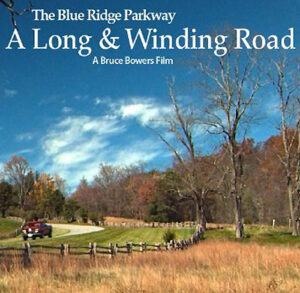 The hour-long documentary also takes a fascinating look at the people along the Parkway corridor and addresses how the scenic road affected their lives and cultures.  It may be surprising to some that the 469 mile long Parkway was not universally welcomed in the mountains of Virginia and North Carolina, and many people fought against it.
                This controversial documentary has been guided both by noted Ph.D. historians and by ordinary people who helped to build the Parkway.  The Parkway changed lives in unexpected ways.  The Blue Ridge Parkway is, by far, the most visited component of the National Park Service.  Since its premiere in the fall of 2010, the documentary has been broadcast more than 600 times nationally and internationally on nearly 200 public broadcasting stations in 27 states.
                The documentary contains a significant Eastern Band Cherokee presence including interviews with Amanda Swimmer, Jerry Wolfe, Faren Sanders Crews and Freeman Owle.  The opening song is by Big Cove Rep. Bo Taylor and Eddie Bushyhead performs river cane flute music throughout.  Crews was the Eastern Band Cherokee tribal consultant for the project.
                In addition to Bowers, a national award-winning television reporter/producer, the documentary is co-produced and co-written by Daniel Hayes.  Both Bowers and Hayes grew up near the Parkway and learned about it from an early age.  Director of photography is award-winning cinematographer Charles Shedd.
                The Blue Ridge Parkway: A long & Winding Road is made possible in part by Lowe's, NC Department of Transportation, The Phillip L. Van Every Foundation, The Kulynych Family Foundation I, Inc., Taylor & Murphy Construction Co., Inc. and Daryl Crouse. 
                To obtain copies of the DVD, visit www.BlueRidgeDocumentary.com. 
– Bowers Media