"Cherokee has a premier haunt!" a statement made by Christina Fleischer-Casper about the Haunted Trail put on at the Oconaluftee Indian Village. Exciting new leadership took on this project in mid-August.  Philenia Walkingstick, Chelsea Saunooke, and Laura Blythe were the master minds behind this year's haunt.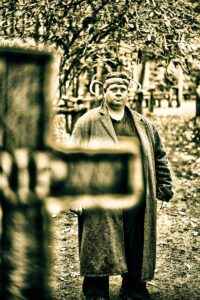 The haunted trail ran from Oct. 21 through Halloween, drawing in crowds from all over western North Carolina and beyond. The lines were backed up in the parking lot on opening night and remained steady throughout the week.
     Phobias were the theme that spread throughout the Indian Village. Snakes, Spiders, Clowns, and an insane Dr. are just a few of the frightful things seen on the trail. Our cast and crew thoroughly enjoyed the screams and shrieks that we were able to get from the crowds.
     One of the victims, Michele Rabb, said, "We had a great time! Voice is gone from all the screaming!" 
     In addition to the Haunted Trail, the Cherokee Historical Association (CHA) allowed people to experience the paranormal on the Mountainside Theatre Ghost Tour. CHA's maintenance crew took crowds of people behind the scenes of the theatre, where the drama, 'Unto These Hills' is produced. While on tour, stories were told of ghostly sightings that have happened to CHA's staff. Numerous people were able to experience these sightings for themselves and shared pictures which can be seen on Facebook at OIV Haunts.
     CHA related they would like to say thank you to those who made this year a success; Ravens Eye Media-Chris McCoy and Bear Allison, Wolfman Productions, VOC, Darnell Farms, Travel & Tourism, Deer Clan Productions and the excellent cast and crew. This year's Haunted Trail and Ghost Tours surpassed CHA's attempt back in 2009. Planning for next year has already begun.
– Cherokee Historical Association